Hi there, happy summer or winter, depending on where you are at the moment. And why haven't you heard from me in months?
Bought a motorcycle
Went to Peru with my father for a month on a life-changing journey
Met the woman of my dreams (met at a bar of course)
Moved into a fantastic new home
I'm not entirely sure what's coming next, but one thing I've learned over the years is that focus and preparation is key, and that's what I've been doing.
While practicing omphaloskepsis, I've done scores of advisory calls with dating sites all over the world, assisted with the launch a handful of dating sites like MeetMindful, helped raise some money for a few sites and worked on some side projects. Like planting a garden, the fruits of these labors won't be seen for a while, and it's been a fantastic journey helping launching great dating sites while working with talented entrepreneurs.
The startups keep on knocking, now more than ever. Startups need clear in-depth actionable advice and consulting to get out of the gate (my specialty), and a lot more than that to succeed.
All the big sites want to talk about is how great they are doing.  Recent example: Match partners with Mensa. An ex is a Mensa member, you bet I'm going to write about her experience. HowAboutWe gets the multi-billion AARP market and Match gets MENSA. Is Match aware of how large the market is for left-handed singles?
Update: This just in, looks like Match is acquiring HowAboutWe. No more information at this time. I hope the HAW folks get a pile of cash after the crap that Match has pulled on them over the years. HAW raised less than $30 million, so what is the sale price going to be?
Now Match will own Nerve.com! What in the actual F&*K?  Match now has an in with AARP, can go all MENSA and whatever else they have up their sleeves. Worlds colliding, I need a drink. What happens to all of the HAW people that Match is going to fire? Other dating sites should have their HR departments on full alert as of right now.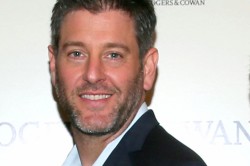 Zoosk IPO prospectus is an interesting read. They are pros when it comes to losing money and fortunately have gotten better at losing less. IPO, keep losing money, maybe get cash flow positive someday, doesn't really matter what they do from the consumer's POV. Nothing is going to change on the site in terms of functionality. They don't need to IPO to improve the site, they need it to pay off investors. I bet they will take an additional round of financing right before the IPO to take care of early investors and staff.
Maybe some acquisitions and elbow into some other markets around the world. If you're going to stuff someone else's numbers in your spreadsheet, Zoosk is a good place to start (I can't wait for the HowAboutWe prospectus).
As for Spark Networks, watching that ship struggle to stay afloat has been both sad and informative (Photo of Greg Liberman, above). Spark's on-the-ropes outgoing CEO was super-talented at sucking money out of a company for insiders while mismanaging it until he got fired. He needs to go, this is something that happened about a decade too late for Spark (details).
Q: Who knows less about running a successful dating site than Spark Networks? A: Executives at Osmium, the hedge fund calling for the heads of various Spark executives. How do I know this? A) They run a hedge fund. B) They focus on money, not people. They are good at firing people and managing the stock price, less so when it comes to staff and god forbid they understand customers. This is deck shuffling and pandering to investors. The  new version of Spark is going to be as bad off as the old. Too many people focused on money and few focused on the product, search, or improving the customer experience.
Tinder, the Big Facebook Lockout and much more has happened that you can read about on other blogs like OnlinePersonalsWatch and Global Dating Insights or Google News.
Is anyone focusing on better search? Or are we going to stick with the HotOrNot  model for now? Forget user-centered search, forget everything we've learned  about online dating in the last decade and forget big data. Throw up a photo and let people flick left and right until they get bored (takes about 5 minutes on Tinder). Remember two years ago when everyone went crazy over [insert dating site name]? Now it's Tinder's time. Tinder is setting the entire dating industry back a decade. But it's easy to understand why. Easy for the ADHD media to talk about, the usual bad behavior is fodder for thousands of blog posts and lord knows we needed another high-quality hookup site.
Whenever I think of Tinder, I think about At First Sight, the video dating site created by the founders of the Bachelor that launched last year. Why look at photos when you can watch videos? Sure, you can look at more photos than you can videos in a given period of time, which is the goal of Tinder's founders. More pageviews, more money, and yet still a crappy experience for singles. Tinder will offer video of some sort, its inevitable.
But I don't want to look at more people, I want fewer, better matches. This is something the dating industry has proven it is unable to deliver, even after spending countless millions on improving search. Eharmony and Match doing their Big Data posturing hasn't resulted in an uptick in effectiveness. And maybe it never will. Maybe when you get to millions of active profiles, there's really nothing we can do to make better matches more efficient. Dr. Warren has been back for a while now, but it's impossible to tell if he's had any affect on eHarmony's business, positive or negative.
While singles keep one eye open for the BBD(Bigger, Better Deal), it's no wonder dating sites are so poor at showing us suitable matches. Singles say they want one thing, and date entirely different people. Until the dating industry addresses this, its in an uncomfortable limbo where the online dating pool grows and the services to address the market grow, but nobody is actually getting much better at matching people.
Maybe a new site will launch with verified profiles and search algorithms not steeped in 2002-era thinking. Or maybe we're done with dating sites trying to filter and search on behalf of their members. Just connect singles with a fire hose of data and let them figure it out.
Well there I go spouting off again. My "fresh perspective" on the industry is still rife with the same negativity of yesteryear, but as usual there are pockets of amazing people doing great work, and that's where I should be focusing our attention. I'll stick around a while longer, maybe one of you will surprise me.
Have a hot tip, a story idea or working on the next big thing? Say hello.