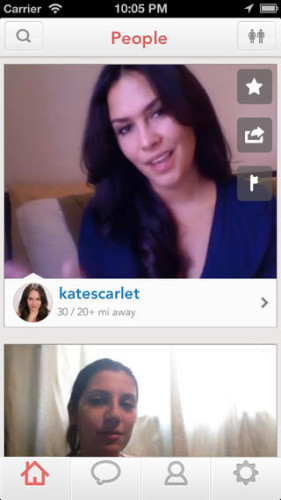 Years ago I was talking to people at the Bachelor about partnering with a dating site or creating their own service. Looks like they finally made their move, and boy did they come up with a great idea for a mobile app.
This is the best new dating service I've seen in a while, let's check it out.
The Bachelor host Chris Harrison, together with the show's creator Mike Fleiss and Perceptual Networks, have announced the launch of At First Sight, a new dating app that uses video profiles to help members make genuine connections. At First Sight lets users see and hear firsthand if a potential match is a connection – mirroring how dating works in real life.
"We created At First Sight because we wanted to do something for the millions of people out there who want to find love," said Chris Harrison, host of The Bachelor and its spin-off The Bachelorette. "You can only learn so much from a photo, but video profiles really give you a sense of who someone is and whether you'd like to meet them in person.  It's an easier, more natural way to connect with people and figure out if you have chemistry together."
Video introductions, it's Match 2002 all over again but with a modern mobile app.
After reading the press release, I was ready to mention it and move on, but then I downloaded the app. My usual low expectations were proven wrong after about two minutes using the service. At First Sight is very close to how I envision the ultimate video-dating profile, and this is only the first iteration of the service.
I've had the app running in the background for a while now, the way the videos auto-advance to the next one is incredibly engaging. I let the videos run and when I hear a voice that sounds interesting or says something funny, I'll look over at the phone.
At First Sight makes Tinder look antiquated. Why sit their swiping photos back and forth when you can have infinite numbers of short videos playing on your phone? I bet Tinder is going to add this functionality, it's simply too addictive and fun to ignore. Just like Instagram had to copy Vine.
You are required to upload a video before you can favorite someone, brilliant. Sharing profiles is easy, as is flagging content as off topic, offensive or nudity or sexual content.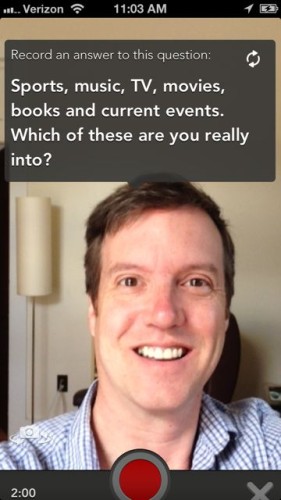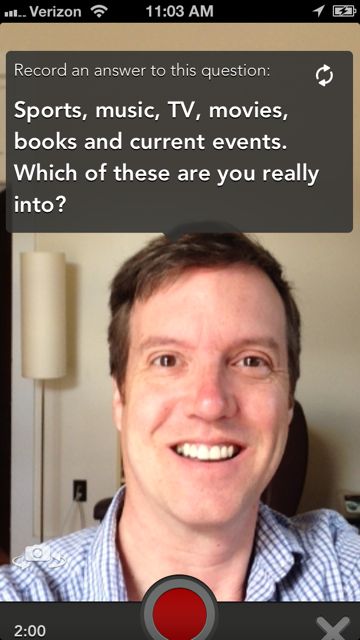 Creating a video brings up questions to answer on the screen that change so that everyone isn't answering the same questions which would lead to boredom quickly. People tend to start their videos with "The question is…." I've only seen a few people start with "This is awkward." I hate when people start their profiles with variations of "I can't believe I'm doing this." They should add a speech-analysis feature to block people from starting their videos with this phrase.
Filtering is by location and gender only. Same problem as most dating sites: lack of search options, but in this case, it's so much fun to watch the videos that even I don't care, and that's saying something. Hopefully they add some search criteria once the site gets some traction (if it does that is).
Videos range from coquettish to tastefully slutty and everything in between. I even heard a few curse words, looks like videos are not being monitored. Some of the women are lying in bed talking about their day like prompter-reading zombies, others are incredibly self-aware and smart, speaking naturally about their personality, tastes and preferences. The woman speaking now is gorgeous and she is making shadow puppets and making me laugh big time.
All of the women I've seen are super-cute. Same as with Tinder. Just wait until us normal-looking people get on there.
Nobody on At First Sight looks like Cam Girls yet, but it's only a matter of time until they find the app. Slap an Adult filter on this, charge for access to mature videos and it's going to make Snapchat look tired as well.
If they promote the app throughout the Bachelor/ette empire on the show, leverage their Hollywood and Madison Avenue contacts and spend a few million on marketing- celebrities, sports stars, random hot and up-and-coming bands, they might get some traction.
At First Sight can be downloaded from the iTunes store via: atfirstsight.com/ios or Google Play via: atfirstsight.com/android.
Just as interesting as the app is who's involved with the project.
Perceptual Networks is a technology company founded by Jim Young, founder of HotOrNot and I/O Ventures, and serial entrepreneur Cheyenne Ehrlich. Perceptual Networks is backed by investors including: Max Levchin, co-founder of PayPal; Steve Chen, co-founder of YouTube; Alex Ohanian, co-founder of Reddit; Michael Birch, founder of Bebo; Richard Yoo, co-founder of Rackspace; Shawn Colo, co-founder of Demand Media; Joshua Schachter, co-founder of Delicious; and First Round Capital. That's some pretty serious firepower there.