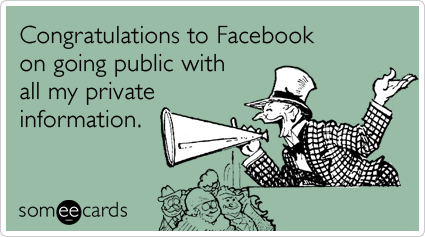 I'm psyched about my 1.5 million Facebook shares, which is going to make me filthy rich. I'm planning on dumping them this afternoon, moving to the tropics and becoming a banana farmer. I kid, I kid, but can you imagine how the new crop of multi-millionaires and billionaires feels right now? Minutes away from changing their lives forever, amazing and somewhat depressing (looks down at drawer full of 20 years of startup options that never vested).
Got this from Match and Chemistry.com. This was not how I expected to start my day:
Dear David Evans:
We regret to inform you that you have been removed from the Match.com Affiliate Program. Removal may occur for a variety of reasons, including violation of copyright/search policies, failure to comply with legal terms, inactivity of your account, or changes in content site.
Thankfully, I have my 1.5 million Facebook shares to fall back on.
Global Personals acquires Smooch.com. Deal includes the WooWise white label system and Mancentral.com, which will help Global Personals grow its gay dating division through own-brand and partner sites. Martin Bysh and Marcus Hamilton will remain as advisors to the business. Looking into the deal, Bysh said in an interview at one point that he spent $400,000 before Smooch.com was even operationally profitable.
Global Personals is crushing it in the white label dating space. Revenue is way up and these type of acquisitions are only going to help. I think the company will be doing $100 million in revenue sooner rather than later if they keep this up.
Dating Factory is making big changes as well. New mobile initiatives like mobile vs. web surfers reporting, mobile landing pages customization and new updated web interfaces with adaptive technologies are in the works.
Not to be left out of the white label market, Badoo has entered into an agreement with HotOrNot to power their service. From TechCrunch: This deal signals another direction for Badoo's growth: as a backbone, B2B provider for other social networks. Other sites that also use Badoo's service like this include icq.com (for a short time), gentemessenger.com and clubnx.com.
But wait, there's more white label dating news.
New Scientist Connect gives you the chance to meet like-minded people who share similar interests to you – whether you're looking for love, or just to meet someone on the same wavelength, no matter where you are in the world. (Ha, wavelength, get it?)
Operated for New Scientist by The Dating Lab, which also offers white label services to a number of dating sites, publishers and brands.
Spotify jumps into dating game with two new musical matchmaking apps. Tastebuds, which I've mentioned before, and Fellody feature different approaches with the goal of helping users connect with new friends and potential dates based on favorite artists, most-listened-to music, and their Spotify playlists. More at HuffPo.
Online Dating Enters the iPad Age.
True.com launches free dating site, SinglesBee. It seems that having a really ugly-looking website is a prerequisite for free dating sites. And what is it with subscription-based sites launching free dating sites? They make a lot of money people charging people 20 bucks a month, and now everyone is so scared of sites like POF that they think they can build up enough of an audience to earn lots of revenue off of advertising? #probablynot.
Facebook dating app: TradingSingles. The app allows users to select their single friends to be "traded in" for matches in their area.
DuoDater makes online dating social with double dates, tips hat to StepOut (Ignighter). Speaking of Step Out, a recent email I received from the service led me to my inbox there, which was literally 100% spam. Huge in India, StepOut in the US, not so much.
According to a new study by the Pew Internet & American Life Project, 37% Of U.S. Teens Now Use Video Chat, 27% Upload Videos.
You Will. The Law of Shitty Clickthroughs via the amazing Andrew Chen. Check the AT&T ad at the top of the article. Back in the day I was working for the firm that created the ad and ran it on Hotwired. It  was exciting as hell to be uploading the first paid banner ads on the Internet, and watching them enjoy a  78% click-through rate, as compared to today's sub-0.05% on Facebook.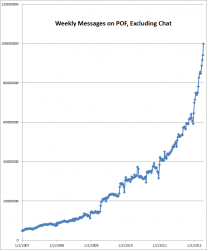 While OKCupid continues to remove popular features, they're adding new ones as well. New OkCupid A-List Features: See who rated you highly and anonymous browsing.
POF passes 100M weekly messages, 2 Billion Pageviews/Week, via Plenty of fish blog. #jawdrops. POF is also the top dating site in Brazil now. Visits to dating sites in Brazil have jumped 58 percent from this time last year. #hellountappedmarket.
Dating startup Cafe4tune launches Android app In Google Play store, combines standard or 3D social network interaction with secure online dating. In 2006 I wrote up a business plan for a client pretty much exactly describing Cafe4tune.
DateOften launches interests-based mobile social dating app for iPhone and iPod Touch. Do we really need yet another one?
DateMyFamily is the first free family oriented dating site, encourages active family involvement in the dating process. Kind of a creepy name, no?