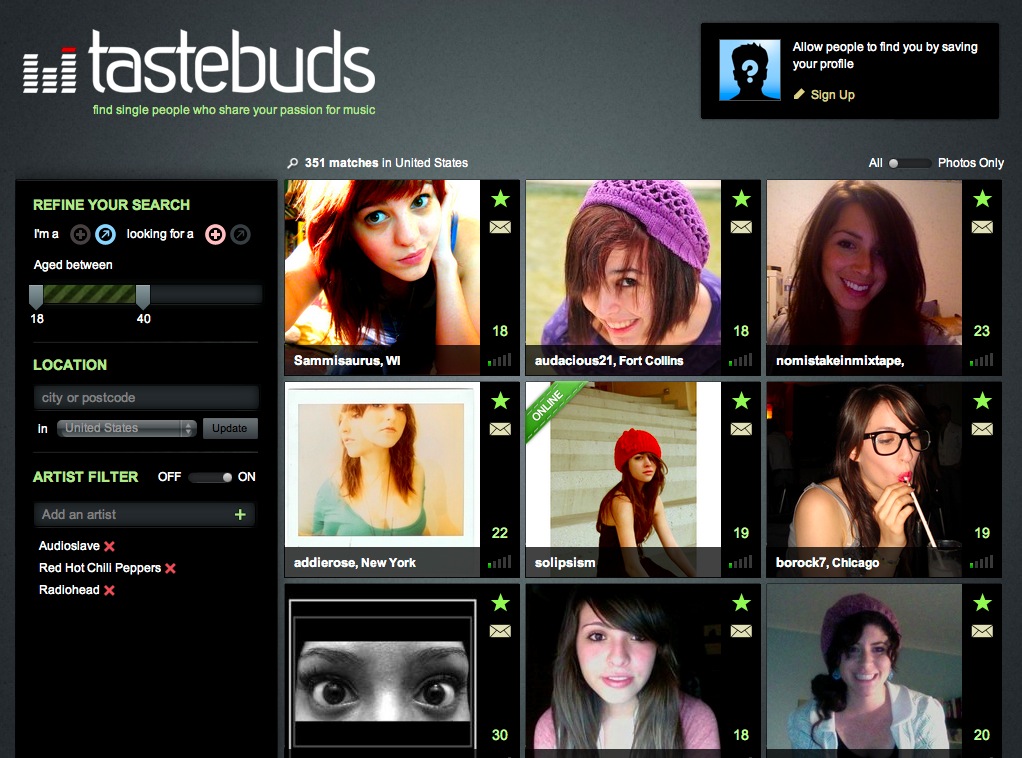 On Friday I was talking to someone about matching based on musical tastes and preferences. Funny how it happens but right afterwards I randomly came across Tastebuds, a UK-based matchmaking site that creates instant connections based on shared musical passions.
Users of Last.fm can connect directly into Tastebuds using their account and associated preferences on that site. All others simply enter at least three of their favourite bands or artists into Tastebuds and indicate what type of match they're looking for, and in what country. From there they're shown the photos and basic stats of potential candidates, with the option to refine their search by age, location or musical artist. They can then zoom in on any potential matches that interest them and add those that look promising to their favourites; when that happens, the potential match receives an email telling them so. The rest is up to the users in question. Using Tastebuds is completely free.
As more and more sites attempt to enter the niche markets, its neat to see unexploited groups like music lovers get some attention.
Treating niche markets with a generic site is stale thinking. It may have worked for People Media, but not so much anymore. So many of the new niche site designs are copies of existing sites, the only thing thats different is the logo and the color of the skin of the models on the home page.
Not so with Tastebuds. The simple gallery-style search page is just about the only feature on the site besides your profile and favorite music list. KISS= Keep it Simple Stupid, and thats what Tastebuds has done, without feeling generic. Not as unique as Meetcha and HowAboutWeb, but definitely feels new.

Matching on musical tastes (band names) is pretty simple, however Tastebuds appears to take things to the next level with its partnerships with Songkick and The Echo Nest. These sites can "scrobble" your iTunes account and pull together your Last.fm and Pandora music, which I imagine is then used by Tastebuds. the Echo Nest is based a few miles from our HQ, I think a visit is in order to learn more about them.

While matching two people just because they both listen to Engelbert Humperdinck or Gnarls Barkley is not exactly in the same league as eHarmony or Chemistry.com
, its a good datapoint to be included in dating profiles, which in their most comprehensive form are made up of photos, profile essay, myriad tastes and preferences and a psychological report. Soon enough this will include your DNA, voiceprint and other emerging matching systems.
Besides it taking too many steps to manually add new artists after you've created your profile and the audience skewing young (understandable this early in the game), Tastebuds is a well-executed site and could be a great way to meet people who share your passion for music. I've only seen one person on here from OKCupid and she works for the folks who develop Rock Band and Guitar Hero.
Is music-based matching a feature for a large site or do you think smaller niche sites can carve out enough of a market to become viable alternatives to top-10 dating sites?