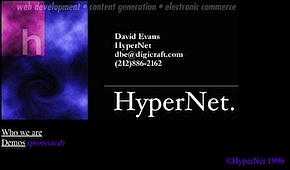 Today I was perusing the websites of David Siegel, who's article I referenced in yesterday's post. David says he started blogging August 30,1995. I think I have him beat by a month, and during a visit to the WayBack Machine, I found an archived version of my online business card from early 1995. Talk about a blast from the past. Fact: the guy who designed the logo for me used to be my sysadmin as well and is now one of the top Twitter Engineers. Memories.
PlentyofFish now offering chat, powered by Userplane.
Fabulis says:
We decided that charging for messaging is stupid. So, from now on it is free to send messages to anyone on www.fabulis.com.

(Note: If you want, you can still set a higher price for people to message you, but the default setting is now free).
Is charging for messaging stupid, or could they just not get anyone to pay for it? Big difference. Fabulis is not really a dating site, its Going.com for gay men.
I would like eHarmony to partner with IBM and use Watson to improve search and matching.
Meetic and Match have completed their infrastructure merger ahead of schedule thanks to Informatica.
PinPointsX Points You To Passion: PinpointsX is a patent pending cellular (mobile) application and a correlative adult-social-networking website, enabling you to 'locate & interact' with erotic partners and facilitators in your immediate, changing and real-time location.
New York Times Plans Public Beta Site for Its Experiments.
Our hope is that we will be able to bring new ideas from concept to prototype to launch much faster with a public beta site than we could using NYTimes.com alone — and that we may do so without the risk of disrupting NYTimes.com or conflicting with other development projects," Marc Frons, chief technology officer for digital operations at The Times, said in a memo to staff today.
I wish more of my dating site clients would offer beta versions of new functionality on a parallel site like the Times is going to launch this summer. All too often, months and months of new feature development occurs behind the scenes and is then launched without enough testing and feedback. Successful sites develop, test, iterate, break, fail, learn, refine, over and over until they get it right, that's how its supposed to work.
Cops can ID Perps via iPhone. Cops who need to ID a suspect simply snap a photo on their iPhones. A statewide database being developed in Massachusetts can match up faces with criminal records in a matter of seconds remotely, beaming a rap sheet back to cops on the beat. It would be cool to be able to take a snapshot of a personal ad photo and find out just how naughty or nice the person was. Not a replacement for a background check or ID verification by any means, but still pretty cool. Reminds me of Recognizr.
While we wait for iPad-specific dating sites, it's good to know that iPad Advertisements Perform Six Times Better Than Desktop Ads. Will the iPad Make Us Better Daters?
Liar Liar List is trying to make online dating profiles more authentic. I'm all for it, but people change screen names all the time, which makes these types of services inaccurate and unreliable. Scores of these sites have launched over the years, someday someone is going to get this right.