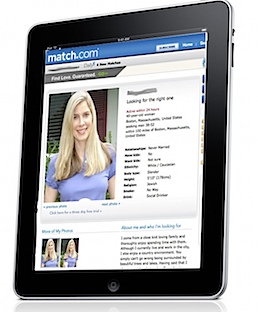 The last few days' iPad hype was as expected. More than 700,000 were purchased over the weekend and more that 1 millions iPad apps were downloaded. Until competitors come out with a less restrictive development environment, the iPad will blow the doors off the Kindle and netbooks for the near future.
After a quick browsing session, it looks like most dating sites look just like they did on the iPhone, no surprise there since it's the same web browser. What I'm looking for are dating sites that are optimized for the iPad, with features native to the sleek computing device like, pinch, twist, zoom and shake. The iPhone can do most of this already, but it's the iPad that's going to enable developers to create entirely new ways to browse, discover and connect with singles.
Imagine looking at profiles like you're reading a magazine, new types of Instant messaging, using swipes of your fingers to dive down into profile details, check your compatibility, answer questions, view big colorful maps displaying who's nearby, and the many other ideas that haven't even been thought of yet.
I for one hope we will be given the ability to reconfigure the browsing process to suit your tastes and needs, not what some interaction designer is forcing down your throat from deep within corporate headquarters. The iPad is essentially Web 3.0 in that large touchscreen interfaces are going to fundamentally change how we interact with technology.
Here's to hoping that we'll start seeing some creative dating apps on the iPad in coming months. If you know of a cool dating app, or are working on one for the iPad, let me know.
You know what's going to be even bigger than dating on the iPad? The iPad is for Porn, although porn sites relying on Flash alone will have a hard time serving any content to iPad users. They are all busy converting their Flash-based video players and site features to HTML5. As usual, the adult industry is way ahead of the curve when it comes to adopting the next big thing.
Decision time. To wait and pay for the 3G version, go with the current wifi-only option, or just wait for the improvements in the next model?