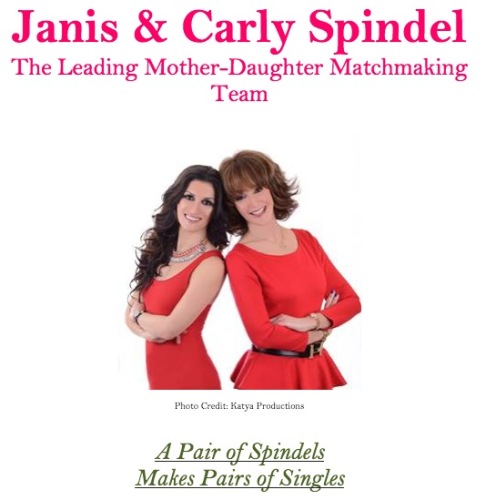 Janis Spindel, high-priced matchmaker to Wall Street fat cats and other power-mongers unable to land a suitable yoga instructor, is launching a reality television show.
Let's just parse the press release, I'm too tired to be serious today.
"It's overwhelming," says Janis, the mom of the dynamic duo. "We have been inundated with calls from TV producers who want us to do our own show."
TRANSLATION: Hollywood forgot about how terrible dating and matchmaking show are. After the interns harassed Hollywood for months the calls are finally coming in.
"But it wasn't until her little girl Carly grew up and made it a family business that Janis' matchmaking service began shaping up as a Fortune 500 company in its own right."
TRANSLATION: Fortune 500 company?
"Carly added a whole other dimension to it," says Janis. "Business just went crazy. We suddenly had another whole generation – the millennial generation – we could tap into". "Mom needed a younger mentality to expand, I think," says Carly. "But she didn't know it until I got involved. She had been doing it for so long, and so very well, I might add, that she didn't know there was an even bigger clientele out there until I turned her onto it."
TRANSLATION: Mom's fame ran it's course. Bring in the kid, she's crushing it. Seriously, that was a good move, mom is aging out of being able to keep her pulse on the younger set of rich kids, and her daugther gets it and the gravy train continues. Good for her.
Carly now heads Carly Spindel Serious Matchmaking Inc. and specializes in matching eligible young men and women at a reasonable expense.
TRANSLATION: Now both men and women can enjoy a new price point, now with less zeros.
"Now the matchmaking business has turned out to be a match made in heaven for both of them. When not helping hopeful singles find love, Carly and Janis Spindel love to vacation at their home in Bridgehampton, New York, the Love Villa, and are actively involved in the community."
TRANSLATION: If you are a matchmaker you better have a house with a goofy-sounding name. Bonus points for the cliches.
Final tally:
Janice: 1013 marriages.
Carly: 79 marriages.
I wonder how a possible reality show helmed by the Spindel women will fare in today's television market. Rember the other one, what's her name, Patti something?
Final thought: I wonder how eH+ by eHarmony is doing?