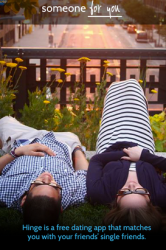 The Hinge dating site story is interesting. Hinge is built on the backs of Tinder and the handful of sites that have previously attempted to leverage the Facebook social graph by enabling friends to discover friends of friends and match each other. Everyone else has failed, but with $8 million in the bank, Hinge is officially the new HowAboutWe. They have some media hype on their side, a big bank account and have the benefit of watching companies like LikeIt, Likebright and many others fail to figure out social discovery and matchmaking.
Many companies want to clone Tinder, which is fine if you don't want to think to hard about what you're doing and it your business is basically a customer acquisition game and little else. And it lasts for about a year or two, so hurry up.
Hinge is Tinder for people who actually want a date and not waste time on the subway swiping people they'll never meet on Tinder. Hinge is supposedly safer but that's a load of absolute BS that the media has run with. Just because you match me with a friend of yours doesn't mean he's not going to be a jackass or worse.
Hinge has made some assumptions about what datapoints it matches people against. We'll see if they are any good. This is all I really care about to be honest. Either their matching algorithm starts out ok and improves over time, or this is a fad app that will limp along while someone else either makes an online dating site even worse and more popular than Tinder or actually makes a matching algorithm that works better than what the market has delivered to date.
Without big coffers of marketing dollars, launching a new dating site these days is pretty much a waste of time. Pretty soon the market entry fundraising bar will be at $10 million. If you don't have that as your A round, you're not going anywhere soon. Sure you can grow at 1,000 members a month, but these days that's what a site like Match signs up ever 6-8 hours. Of course there will always be breakouts like Tinder, but unicorns like that are rare.
Now you can hire an Uber ride while you're chatting with your new friend on Hinge.
More at TechCrunch.