Twenty years ago I was working with Tangent Design and Modem Media to develop interactive content for AT&T and Zima. The guy who's place I took at Tangent Design ended up founding Razorfish a few months later. Anyone remember The Blue Dot?
This Is The's World's First Banner Ad:
This is almost the exact size, almost the exact resolution, exact ad.
Of course, it's not *technically* the first banner ad. There was no "one" first banner ad. Instead, there were around 12-14 banners, which all went live 20 years ago today, on October 27th, 1994. That was when the website HotWired.com first launched on the internet.
When Tangent launched the first paid banner ads on Hotwired, the WIRED Magazine digital network, we were all excited to see what would happen.
The AT&T ad enjoyed Seventy percent clickthrough rate and the number one banner ad on the Internet for over seven months. Today those numbers are unimaginable, but back then we were setting records because there was no competition.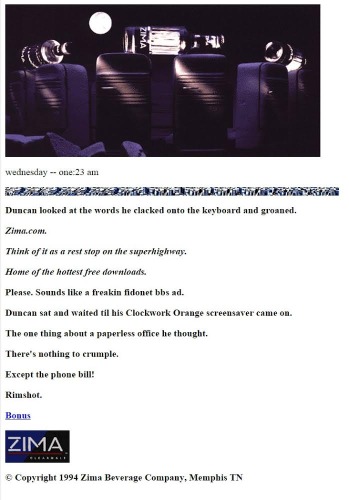 Around the same time, we created the first episodic web site for Zima with Modem Media. All but forgotten today, it was ground-breaking when it launched.
I have both fond and frustrating memories of working on the Zima website, updating the content every week or so with new stories, images, sounds and other cool stuff. All I had was an FTP client and the HotDog HTML Editor. I'm always amazed at how low-fi web design tools have remained over the years. Dreamweaver was a nightmare and today people still hand-code almost most everything if they want to get it right the first time.
I went to WIRED's office once, sat down with Brian Behlendorf, who did much of the work on the original Apache web server. He had a small SGI machine on his desk, covered with soda stains. I asked what that machine was, and he said, "That's HotWired." One machine for the html, images, database and ad server.
The Internet History Podcast has a great audio and text writeup of those early online advertising days. Just about everyone involved is represented, a great history lesson for anyone interested in online marketing.
Seventy percent clickthrough. I wonder how that compares with ads on POF?