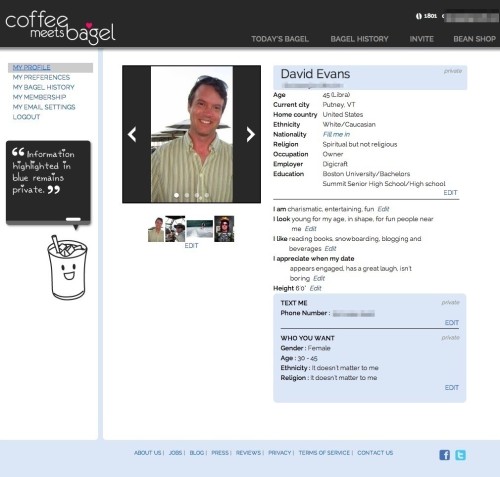 While in Boston on a recent business trip I found myself at the same restaurant where I met with some potential Coffee Meets Bagel investors a few years ago. Since then CMB has convinced investors to give them over $3 million to fund growth and product development.
$3M and the site is basically exactly the same as when it launched, except the communication system, which while awkward at launch, is marginally better.
Similar set of profile questions remains in place, although they did take suggestions to change a few things. The search engine that delivers matches remains terrible.
CMB could have owned the Date Of The Day market, but after three years, nope.
From a recent TechCrunch article, Dating App Coffee Meets Bagel Ditches Twilio With New IM Features:
"What we observe is that a lot of people hesitate because they don't want to feel like they are 'actively' trying to meet someone," said Kang". Tell that to all of the Tinder users.
CMB is a flop because the service isn't enticing or engaging enough to get any market share. Only a massive re-do of the profiles and matching algorithm is going to save the company at this point.
Still waiting for a competitor to jump into the market, do a daily date site that has some personality, market it well and maybe make something of it. That's even more likely now that CMB raised some cash, justifying the "daily dating deals" market segment.