For the last several months I have been looking at the couples app market. I've downloaded scores of apps and have "relationships" with a number of friends in order to evaluate the services. It quickly became apparent that  there are two sorts of apps for couples, mini-Facebooks and therapy apps.
The min-Facebook apps (think Path with flirting) offer little more than photo sharing and maybe silly little drawing features and goofy bling that partners can share with each other. These are the apps that make you question just how screwed up we are as a society. Lot's of cringe-inducing games and questions with little or no scientific background.
Then you have the apps focused on keeping relationships happy and healthy. The majority of these also have little or no real science behind them, although this appears to be changing as people start to see the market potential. A couple really stand out, which I'll dig into in a future post.
Actually there is a third market segment, couples apps like HowAboutWe, but those are selling expensive dates, which in a way could be considered relationship maintenance, but again, it's just dating deals.
Today I received an email from Tokii, a service for couples that shares quotes, games and some communication questions. I thought the service was raw but had potential, and then I saw this. Check out this screenshot from the email. A bit of a shock, to say the least. My testing partner emailed me and said "No chance in hell" when I tried to get her to play these games with me. Oh well, at least I tried, all in the name of research.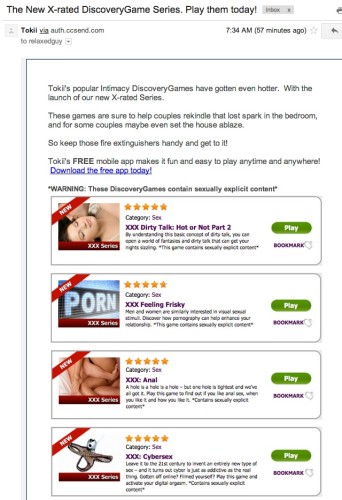 I'm still waiting for a rock-solid couples app that isn't goofy, downright stupid or based on generic information or science. It's gotta have a measurable track record as well. Does such an app exist?