And so another Valentine's Day has come to pass. This year I did around 35 media interviews, actually a pretty light load this year. The sheer number of "relationship experts" who asked about guest-posting was unbelievable, probably around 50 people.
10 things dating sites won't tell you.
The mission of online-dating CEOs like Sam Yagan of OkCupid and Markus Frind of Plenty of Fish is to convince us that actual dating can and should be more like enjoying a good story; it is entertainment consumption, an individualistic pursuit that takes advantage of the way technology has improved on-demand commerce. Just as CafePress can sell you a customized T-Shirt, why shouldn't OKCupid aspire to sell you a customized partner?
OkCupid's New Venture, Combosaurus, Worries Privacy Advocates:
Combosaurus, the venture in question, tests all the data entered into OkCupid by users to see what clusters together. If advertisers can gain access to such deeply personal information, it would revolutionize the way they reach consumers.

… "When you have a hammer, everything ends up looking like a nail, OkCupid co-founder Sam Yagan told HuffPost. We were founded by four math majors, so we had a hammer of math and data looked like a nail that we could attack.
Combosaurus sounds like IAC's answer to the Facebook Graph Search. Advertisers are going to love all that data on users.
Where the Singles Are: A Dating Guide by ZIP Code.
Offline: love, loss, and dating without Facebook.
About.com's annual Reader's Choice Awards, 2013 Best Dating App is open for nominations.
CupidPlc is under heavy scrutiny, stock takes a dive, buyback ensues.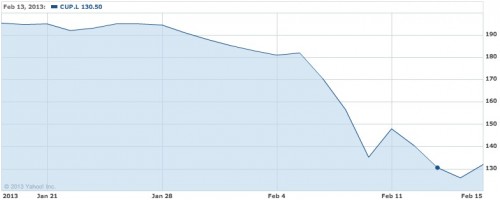 Lulu raises $2.5M for guy-rating app. An "app store for men" tied into LuluDude. That's pretty cool and they have a $3M war chest to market it.
Pop Secret and OkCupid announce partnership match people based on movie preferences.
Organize + Plan Dates w/ Springpad App. This is the best dating CRM idea I've seen in a while. Like Evernote for dating.
Save All of Your Date Ideas Ahead of Time
Create Checklists and To-Dos
Set Alarms and Reminders, Synced to your Calendar
Cooking Dinner? Find or Save Recipes and Plan a Menu
Find Awesome Gift Ideas
When I had an office in Boston the Springpad folks were busy at work a few floors above me and I never knew it!
Production company developing series about interesting online dating stories
and people meeting IRL for the first time – lucasgfroehlich (at) gmail.
YouTube Co-Founder Launches Speed Dating Service: On This Week in Startups, Steve Chen (early PayPal, left Facebook to co-found YouTube) joined the show to discuss his angel investments and give a sneak-peak at his new venture, ScreenDate. Spend 3-4 minutes on each one-on-one date with lots of great professional singles who have been 'hand picked' by yourself and your peers through our unique screening process. After meeting all the people you helped vote in at one of our exclusive events, you then log back in and mark the ones you you want to stay in touch with. We'll match everyone up and notify you, and you're free to communicate with them and take it from there. For full details, read the ScreenDate FAQ.
Does being a co-founder of YT have any bearing into potential for success in dating? We'll see.
Silicon Valley matchmaking start-up FeaturedDate is hiring more than 1,000 independent Marketing Associates to market and promote the service. Associates will receive ongoing training and support with the chance to earn commissions and bonuses exceeding $40,000 per year.
New dating sites and apps: Hinge, Tagged's Sidewalk, Tingle, Flirtfraze, Would Love 2, WeSync, Neumate, Bangwithfriends  (thanks to @theurbandater), CupidRadar.
Love Coupons and Date Ideas from Datevitation. Everyone is getting into monetizing dates, because ad revenue is tiny for smaller sites and only 10% of members are paid users on subscription-based sites. I still haven't seen a good example of local date ideas pop up while I'm emailing someone to set up a date. It's the perfect context, why don't dating sites do this?
Insider Tips: DatingFactory on tracking conversion performance.