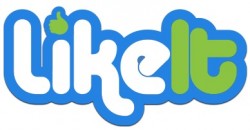 Brian Bowman at LikeIt has a great post on TechCrunch, Facebook Is Primed To Disrupt Online Dating. Brian made some solid points and there are a few things I disagree with, so let's dive in, shall we?
Brian sets the tone of the article right up front.
Unfortunately, the dating industry has chosen to protect its charge-to-communicate business model instead of give consumers access to information to make an educated decision about a potential date: Is my date a real person? Who do we know in common and what mutual interests do we share?
He appears to be railing against the charge-to-communicate model, but then mentions profile authenticity and completeness (the site was originally called TheComplete.me). There's a big disconnect there, but let's move on.
Note that LikeIt made a pivot from dating to "A fun way to discover people, places, and things" In December. In the TC article he doesn't mention discovering places and things, which leads me to believe that the pivot was more about a course-correction to go after a broader market. IMHO, LikeIt is a dating site, pure and simple. They can call it whatever they want, just like Badoo is a friendship network and not the world's largest hookup site.
On average, fewer than 10 percent of people subscribe to and unlock communication, meaning 90 percent of people can't respond to your emails.
There's that pesky truth again. Why hasn't the dating industry come up with a $5/month plan to send/receive 10 emails or something similar? So much money left on the table and would make people incredibly happy to "dip their toes in".
To complicate the single's experience further, most dating profiles are static and lack social network updates. The site restricts information sharing to prevent identity leakage and maintain control over communication.
I have been screaming for this for years, what is it going to take to bring some social behavior into online dating sites? Really disappointing to see the industry stand flat-footed on this particular issue.
Badoo, Tagged, etc. "have not integrated Facebook's social graph so you can see someone's friends."  LikeBright, LikeIt and a few other sites (leave a comment) are going in this direction.
I am single. You and I are Facebook friends. You have 150 female friends. Because you know me to a certain degree, you are a good wingman for me. Of your 150 friends, which five are a good fit for me? Only you know that. LikeIt and LikeBright are going to facilitate that transaction. Now we have to consider the functional aspect. Of Brian's five female friends, how is he going to make the introduction? As a matchmaker, what does he get out of the deal? In real life, I'd buy him a beer. How does this translate online? Pay him via PayPal, Bitcoin or the site's own e-commerce platform? Matchmaking leaderboards? Engage.com was doing that seven years ago.
Interesting point, "To be a successful, U.S.-wide, general-purpose dating site you need about 250,000 profiles." That number (arguably) gives you enough density in key population areas so that members feel like there are enough people nearby to make joining a site worthwhile.
What's killing the social virality that made Zoosk and Are You Interested so popular early on? "Four out of ten people will not post publicly on Facebook that they are using a dating app, and this arrests virality." In addition, as part of the paid exposure efforts to drive additional revenue, Facebook has made it much more difficult to get viral loops really cranking anymore (at least in dating).
One thing that Brian neglects to mention is that a huge percentage of people on Facebook do not have their relationship status set. I wrote last week that it would be cool to see dating apps push people to set their relationship status and have that data flow back to Facebook.
To illustrate the challenge, no social dating site has gained meaningful traction: theComplete.me (10,000), Yoke (10,000—Buzzfeed acqui-hire), Circl.es (1,000), LikeBright (1,000), thedatable (200), and atthepool.com (Alexa Rank 164,000) have struggled, while Wings, Gelato, and Thread are shuttered.
Except for Badoo, Tagged, Zoosk, Are You Interested, etc. Dating is a pure play advertising-based business. Always has been, always will be.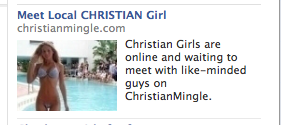 Case in point. Look at this Christian Mingle ads someone sent me. Is she even wearing a bikini bottom? Christians are just as much horn-dogs as everyone else. Let us all be blessed to meet a sweet God-fearing girl like the buxom co-ed in those CM ads.
"Online dating industry continues to be recession-proof." Yup, heard that over and over at Online Dating Summit last week. What I wouldn't give to be back on the beach in Miami right now!
With Facebook's Graph Search and the company's newly expressed interest in online dating, can it reinvent dating, drive down the associated stigma and expand the market?

…

The real question may be how important is the dating market to Facebook? It will be a challenge to run so many vertical solutions: dating, recruiting, ratings, reviews, etc. Will they pick a few ideas on which to focus, and will dating make the cut?
He nailed it. Cliff from Are You Interested is bullish on Graph Search, I need to post up his thoughts on that asap.
"Facebook's profiles are shallow and not representative of a user's current interests or romantic preferences." This is the only statement by Brian that I strongly disagree with. Gigabytes of photos, thousands of likes, there is more data about us on Facebook than we know what do to with. What neither he, nor anyone else is doing AFAIK, is hiring PhD's to make sense of all that data and social signals and turning it into information that can be used to facilitate better matching. Matching based on raw Likes is baby steps. This is where the Big Data and analytics companies could really help the online dating industry with sentiment analysis.
Scary thought – Facebook is constantly battling companies that replicate their functionality and don't give back to the platform.
Reciprocity and Replicating core functionality: (a) Reciprocity: Facebook Platform enables developers to build personalized, social experiences via the Graph API and related APIs. If you use any Facebook APIs to build personalized or social experiences, you must also enable people to easily share their experiences back with people on Facebook. (b) Replicating core functionality: You may not use Facebook Platform to promote, or to export user data to, a product or service that replicates a core Facebook product or service without our permission.
What if Facebook turns off data-sharing with dating sites? Yikes!
Brian's thoughts on how Facebook can disrupt online dating:
First, Facebook can assure singles that dating can be a completely private experience, and that dating activities will not be published on a wall unless singles want it to be published. Facebook can create a pseudo-closed environment by offering a dedicated dating section in About Me and allowing singles to choose whether that section is public, private or only viewable by people with dating profiles.
Figuring out how to make dating private on Facebook will be incredibly complex. Additional user permissions, search functionality, profile exposure changes, timeline changes and an unbelievable amount of code will be required to put a simple "Check this box if you want to use Facebook for dating." And then there's the social stigma with dating on Facebook. Will my parents, friends and boss see that I'm looking for a threesome with transvestites? What if I click the wrong privacy button and my dating intent is made public for the world to see?
And to what extent will Facebook go to ensure our safety and privacy? Look at the $10M lawsuit against Match. Sure it will get thrown out, but does Facebook want to hire 100 lawyers to deal with the expected bad behaviors of their members? One wrong line of code, 25 people dead, a complete PR disaster. Ahem, verified Facebook profiles, get 'em while they're hot. ID verification $15/year, full background check, $50.
Brian is a very sharp guy and his post on TechCrunch shows that he has thought through a lot of how Facebook could affect the dating industry. A great article that really got me thinking.