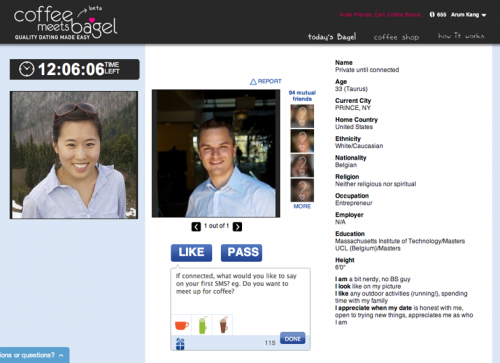 I have been using Coffee Meets Bagel  for a while now. The site boasts six thousand direct connections between members as of Sept. '12, 439,355 introductions overall as of today.
One match is emailed to you every day at noon. It's about quality not quantity and reminds me of eHarmony early days when you couldn't search for matches, they were emailed to you. You then have 24 hours to indicate if you want to Like or Pass. If your match Likes you back, an anonymous text message connection is created.
Freemium model, virtual credits, called Beans of course, are earned or purchased, unlocking the identity of mutual friends you and a match share on Facebook. Today for the first time they didn't have a match for me, so they gave me two Beans. That was nice of them.
The profile is ridiculously sparse and I hope they beef it up at some point. Starting a texting session with someone based on so little information doesn't do it for me.
They take Sunday's off from sending you your daily match. This is an investor-backed startup and they are sending out emails about how to give orgasms. Seriously? Guess they took the hint from HowAboutWe.
CMB was recently funded to the tune of $600,000 by Lightbank and Match.com co-founder Peng T. Ong.
Single-serving dating sites are all the rage these days. People are tired of wading through hundreds of profiles every week. But unless the CMB search engine is fantastically amazing, it's just another dating site to add to the dating dashboard. Wait, that doesn't exist yet (tapping foot…).
Give them a few million to do some real advertising and get better coverage and they might be on to something.
Inbox Cupid had a similar idea when they showed up at eAmore in 2011, but the site appears to be down. I'm pretty sure there are a few other similar services out there as well.