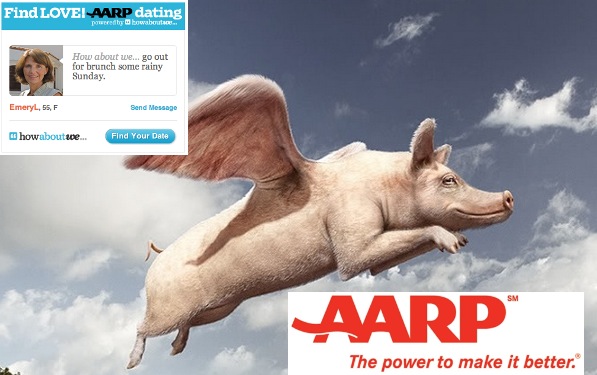 Years ago I sat poolside in Miami talking to a few dating site owners. The topic turned to the over-50 baby-boomers and each and every site owner in attendance was salivating at the thought of partnering with AARP (American Association of Retired Persons).
One after another, everyone had a story about getting stonewalled by AARP despite business development meets, deal-sweeteners and other enticements to get AARP on board for a partnership. The general takeaway from our little poolside chat was that AARP would partner with a dating site "when pigs fly."
Since then, with services like Match and other senior dating sites announcing huge growth in the over-50 dating market, I figured AARP had started their own site or done a deal ages ago and I just never heard about it.
Well flying pigs it is. AARP has partnered with HowAboutWe to power their dating feature. Here's the AARP story and the press release.
For Americans age 50+ looking to get back into the dating scene, AARP today announced it has launched AARP Dating powered by HowAboutWe. This new service gives older adults a chance to date in a way that resonates with what they know: going out on dates. Debuting with AARP's dating service is a new dating content channel on the AARP website that provides visitors with tools, resources, and expert advice on modern dating and relationships, including two new dating experts.

The AARP Dating site can be accessed at dating.aarp.org and gives visitors to the site an exclusive 7-day free trial, plus a 50% discount for AARP members who choose to subscribe to the monthly service.  After creating a profile on AARP Dating, members will say "How about we…" and post an idea for a date they want to go on. AARP Dating will also allow users to browse nearby date ideas and message other members.

AARP chose to develop this new site with HowAboutWe because of their experience-based approach to online dating, which is completely aligned with AARP's social mission, encouraging people to meet in person and enjoy activities together.
AARP Online Dating Survey: Various studies have found that older adults are the fastest growing segment of online-dating services and the results from a new AARP online dating survey of adults age 50+ show that older Americans are not only open to dating online, but they're looking for a serious relationship (48%) and friendship/companionship (26%); 14% of respondents say they are using online dating for casual dating.
HowAboutWe has been doing a great job striking partnerships with various high-traffic sites. This deal makes a lot of sense and could certainly have a strong impact on their revenue.
Congrats to HowAboutWe and a word of advice to the social media and marketing team, which I consider one of the best in the business. You might want to tone down the blog posts about how to give great blowjobs. Seniors are more interested in date ideas like playing shuffleboard, going to catch the blue light special and hitting Walgreens together.