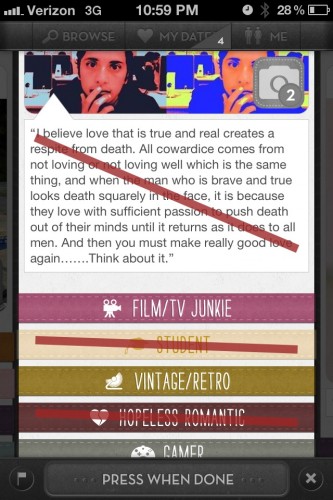 Hot new dating app of the week. Received an email about an iPhone app called Let's Date from the creators of Suicide Girls (edgier Nerve.com). Absolutely gorgeous interface and I like how it imports my FB data to create my profile (called a Date Card).
When you scroll through the cards, you can select "let's date" or "no thanks". When you choose the second option, you are prompted to draw lines through the parts of the dating card that you disagree with. The person's appearance, maybe they like Ron Paul, are too deeply romantic, their bands trouble you or you don't like their idea of a good time. Let's Date takes that data, learns from it and then presents you with new cards to look at that might be a better match.
I test a handful of mobile dating apps every week and this one is definitely going on my home screen for a while. Feels great to get excited by a new dating app that's unlike all the others crowding my phone for attention. So many are just variations of the same thing, which makes me grumpy. Listen to the audio interview with the founders. More at Tech Crunch. Download Let's Date from iTunes.
WhiteLabelDating.com reports a record-breaking end to financial year. total revenues growing by +61% to reach annualised revenues of £46m. WLD paid out over $80 million to partners.
IAC Chairman Barry Diller Discusses Q2 2012 Results:
Core Match businesses Match, People Media and Chemistry continue to grow with 12% revenue growth in the quarter. The second quarter was also our ninth consecutive quarter year-on-year double digits subscriber growth in the core businesses. Our revenue growth slowed modestly from the first quarter, in large part because we cut back unprofitable marketing on certain properties and delayed marketing spend on others to coincide with new products initiatives. We're hopeful however that these new initiatives will strengthen that growth going forward.
Barron's story on Greg Blatt, former head of Match.com, now IAC CEO.
In recent years, Blatt has immersed himself in the details of both Match.com and IAC's search units, both big cash generators. At Match, revenue was flat before he jazzed up the site, boldly introducing a reality-based ad campaign made without an agency. He also acquired OKCupid, Yahoo's dating site, Paris-based Meetic, and a minority share in a leading Chinese dating site. Since 2009, IAC's online-dating subscribers have doubled(Emphasis mine). But there has been no marriage for bachelor Blatt, who claims to have used Match.com himself. "Even Match.com can't work miracles," he says with a laugh.
…
Half of Match.com subscribers, for instance, sign on to the site with a mobile device. But there no longer is a Match.com iPhone app. IAC pulled it because Apple wanted to control Match.com's customer experience.
…
Match.com switched to an HTML5 application—a universal standard for showing Web content developed to work on all operating systems. "We didn't take a hit," says Blatt, as customers found the HTML5 experience virtually indistinguishable from Apple. "HTML5 is the great democratizer."
IAC Reports Q3 2012 Results.  Match.com revenue grew 35% to $178.2 million. Meetic revenue went from $11.1 million to $50.9 million.

Match outsources call center efforts to Stellar.
Match.com's Stir celebrates its 1000th event, 200 singles party it up at San Francisco's trendy Supper Club.
TechCrunch says: BuzzFeed acquires Kingfish Labs after they pivot from dating to Facebook ad optimization.
Kingfish's original project Yoke. That was a Facebook-based dating app we broke the news on back in March. Fishman tells me it quickly ramped up to 15,000 users but stopped growing, as people didn't want to make dating introductions for Facebook friends like his team expected.
Say hello to another video app: Threadlife wants to give you three seconds of fame. Love the idea of a three-second video profile.
Brain Science for Dating and Relationships.
Payment Data Is More Valuable Than Payment Fees.
Predicting The Future is The Future.