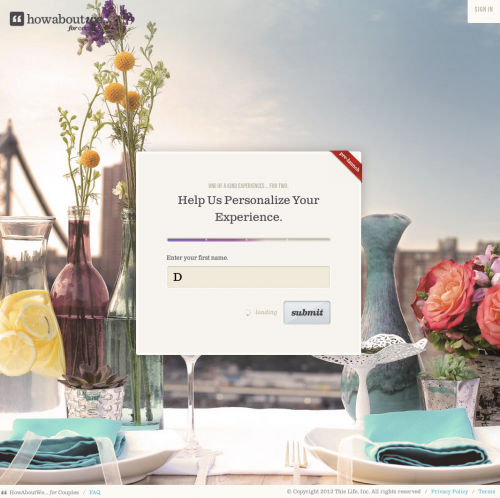 How About We For Couples really wants me to try it out, lots of emails from them lately. Interesting to see how many companies are trying to keep the revenue flowing by addressing the (perceived) needs of couples. Zoosk has its own Couples area where you can brag about how hot your girlfriend/boyfriend is, and note your relationship milestones. Several startups have reached out to me about services for couples as well.
History lesson. In 2002 Match.com, had a social network attached to its dating site. Are we ready to go on that ride again? Do couples want curated dates that cost $150? Do they want to post photos of themselves on dating sites?
My personal opinion is that dating sites should introduce people and get out of the way. Perhaps the couples angle will pay off. Relationship bragging could be a decent side-business, egotistical Westerners that we are. God forbid anyone should actually improve on the weak matching algorithms and profiles pervasive in the dating industry. "Lets go make more money but not fix the foundation of our business" is certainly a popular option in dating.
Anti-fraud service iovation surpasses one billion tracked devices. More than 2,000 fraud managers around the globe leverage iovation's database of Internet devices and relationships between them to determine the level of risk associated with any type of online transaction. Retail, financial services, social network, gaming and other companies make real-time queries to iovation's knowledge base of more than one billion devices from every country in the world. Every day, iovation stops over 150,000 fraud attempts. This is a cool company doing good stuff for the dating industry.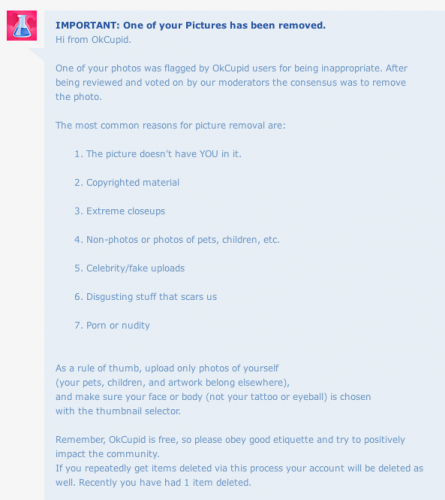 OkCupid removed two of my photos which have been on the site for many months. Glad that they are diligent? about photo management but my photos were all of me and totally appropriate. I hate that I can't see what photos they removed. Grade: C+.
Have you ever wondered what a dating site is doing with your personal information? I love how this service says it only caches your data for one hour.