Happy Friday, I actually remembered to #followfriday some dating industry peeps on Twitter today. Follow me at @datinginsider. The dating industry is going to love Narrative Data. This paragraph from Monday Note supports my longstanding belief that dating sites are going to have to become more data-intensive like OKCupid to truly benefit from the submerged value just waiting to be discovered in social networks.
Narrative Data… is more into character and personality analysis; it assesses ability to sustain stress, to make the right decision under pressure. To achieve this, Narrative Data is staffed with linguists, mathematicians, statisticians, psychologists, sociologists, neuroscientists. What they basically do is data-mining the social internet: blogs, forums, Twitter, and of course Facebook. Over the years, they've drawn a map of behaviors, based on language people use. Thanks to Narrative Data's algorithm, everyone aged above 20, can have his or her life unfolded like a gigantic electronic papyrus scroll. HR people and recruiters love it. So do insurance companies and banks.
Can you imagine if Narrative Data focused its system on a dating site? I can't get enough of this kind of deep analysis of our online lives. Take a look at Recorded Future as well.
Dating sites need to look into these companies. I'm not saying its a perfect fit at this stage, but thinking about how to leverage the incredible insights that can be gleaned from social networks is an exciting opportunity. I simply don't understand why more companies are not jumping all over this.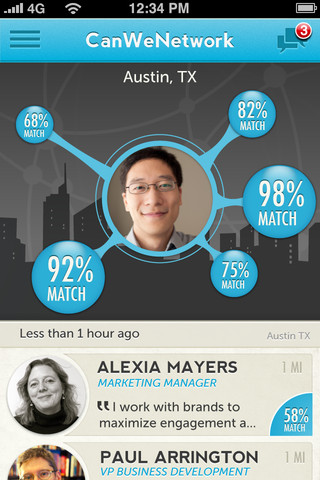 See also: CanWeNetwork, a unique mobile business networking tool that provides users with valuable professional recommendations of people they need to meet for business opportunities. Recommendations are based on location, skillset, experience, shared interests and personality traits extracted from LinkedIn profiles.
This is an amazing story about target marketing to the extreme. How Target Figured Out A Teen Girl Was Pregnant Before Her Father Did.
Psychological-based matching is when a dating site forces matches on you that it thinks are best for you based on some hard-coded belief (opposites attract, explorers want to date other explorers, etc.)
Behavioral targeting takes your behavior on dating sites into consideration. Results are influenced by the type of people are you searching for, who are you emailing and responding to.
Its a lot more complicated than my simple attempt at a these definitions (which could use some refinement). I'll never forget sitting at Match HQ and listening to an explanation of the datapoints and user composites that Match's Synapse generates, parses and acts upon 24×7. It made my brain melt, twice.
It is sobering to see most dating site search engines after you've peeked under the hood at Match/eHarmony/OKCupid. Regardless of your thoughts on the effectiveness of the systems, everything else seems antiquated, more needle in a universe than in a haystack. The Hadopp-based and other large-scale databases in use on some dating sites were just the beginning, a warmup of sorts. Now we're marching towards dating site matching's next big act, using social media-based data to match people. I can't wait to see what the next wave of startups is able to come up with!
Mobile is just another screen. You get 40% of your traffic via mobile, thats great. If you overall numbers aren't growing and your're not matching up more members, so what? Besides the fact that mobile is *much* harder to monetize and the opportunities it presents from location-based matching, whats the big deal with mobile?
The big deal is that dating sites will begin to categorize people based on their location, the apps and games they use on their phones, the amount of engagement with people via texting, videochat, checking in and other datapoints. Right now some dating services collect some of this information, but they are not doing much with it. This will change over time as sites start to understand the value of all the new data.
This information will be fed into petabyte-sized artificial-intelligence-based systems that churn through terabytes of information, data and behavior to influence next-generation matching algorithms. That's what's important about mobile. An evolutionary stepping stone, mobile gives dating sites an enormous amount of new data to work with. Then, in a few years, mobile will be regarded as, you guessed it, just another screen. The impact of mobile on dating has barely begun to register, things are about to get interesting, and fast.
I'd love to talk to you if you are starting to think about, or already doing cool stuff with user behavior data, mobile apps and next-generation matching systems.