After writing about Flikdate, I started hearing about Airtime, the new videochat service built on top of Facebook. Remember Chatroulette (lots of posts here)? Huge initial growth, absolute media frenzy, featured live in an epic concert, and the fell off a cliff. Watch the Ben Folds Ode To Merton LIVE Chatroulette Piano Improv YouTube video, great display of how Chatroulette could be used for positive purposes. I was inundated with news about sites attempting to clone Chatroulette's Internet Meme status a few years ago, but nobody pulled it off, because Chatroulette was fundamentally broken. With no authentication mechanism in place, Chatroulette took the worst that people could offer and offered it to a large amount of initially-fascinated people. And so it died.
Chatroulette had its day in the sun. Fast forward a few years and think about how you would go about cleaning it up (less crotch shots, crack smoking, cat murdering) and authenticating people off of Facebook. Oh and sharing videos with each other. That's Airtime.
What makes Airtime interesting at all is not the Facebook integration. The real story is its co-founders, Sean Parker (Facebook) and Shawn Fanning (Napster). Without these two, the idea of one-on-one video chat on Facebook… wait, Facebook already offers the same functionality (without video sharing). So why should Airtime be a big deal?
I'm nowhere as benign a blogger as the guy who did the puff piece on Airtime that TechCrunch did (read it anyway), Face To Face: How Airtime Will Re-Humanize The Internet.
The real story is that Airtime isn't a big deal, at all. Its an unfolding story titled "Lets take on the Facebook/Skype partnership, maybe get acquired." In the meantime we can monetize our users by lets see, forgetting to set some privacy controls, taking periodic screenshots of users without their knowledge, asking them to upload their addressbooks, selling their information to ad networks, you know, how most companies make money online these days. You didn't actually believe that anyone would pay for Airtime, did you?
Its not all hype and air. Sean Parker has spent a lot of time thinking about social discovery. The welcome email says: Discover people like you. Break outside your social graph and find people like you based on shared interests. Sounds just like the current crop of social dating sites.
Then I read Are You Okay With Airtime Secretly Taking Photos Of You While You're Video Chatting?
Person to person video chat and pull in videos from sites like YouTube to watch together. Woohoo. I just met you, lets watch some cat videos. The founders are considering group chat and synchronous music listening. Like tons of existing services, like Chill.
And whats up with Flash? I think it sucks that Airtime requires Flash. So much for mobile usage.
Is there anything cool or notable about Airtime?
If one of your friends is online on Facebook, they're on Airtime, and you can instantly send them an invitation to talk that's delivered via Facebook Chat. If you want someone new to share with, Airtime pairs you with people who are nearby, share interests, or have mutual friends.
So the on-boarding process is fairly friction-free. thats good news. But will people use Airtime?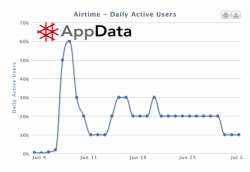 Fast forward  a month. According to Business Insider, it looks like the much-hyped Airtime was full of a lot of hot air. I don't think Airtime is going to fail completely, the just need to figure out a way to make it worthwhile to a larger audience. Co-sharing videos is a nice idea, but I do my Youtube-ing on my own time. I don't want to interrupt my day to watch your video, just post it to Facebook and I'll watch it when its convenient.
As for dating, it could be cool to see Airtime-like functionality integrated with social dating sites. Its not a strong enough value-proposition to be the only reason to use the service, its just a feature.
Social dating sites, are you up for adding third-party video to your apps?
I know a lot of video and social-focused people, and only two of them Like Airtime. That says something right there. They haven't even updated the Facebook page since June 12.
Here's more from the New York Times, CNN and HuffPo.