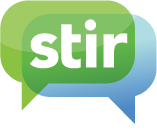 This morning I had a Skype videochat with Match.com President Mandy Ginsberg and Shar Dubey, Vice President of Product. Mandy and Shar took some time out of their busy Internet Week in New York schedule to share supplemental detail to the Match blog posts and press releases flying around the intewebs today.
Let's start with a few paragraphs from the boilerplate announcement.
Match.com, the largest dating site in the world, is transforming the American dating experience with new, innovative features for connecting people that eliminate the distinction between online and offline dating. Rolling out nationally over the coming weeks, Match.com will launch The Stir, a service that brings single people together in thousands of events across the country, and a proprietary collection of dual-player games designed to let people get to know each other online in a fun, natural way. The games will be available to all Match.com subscribers this summer, and the Stir will begin rolling out in more than 20 U.S. cities by June and nationwide by September.
Match blog post: The Stir: Events by Match.com.
"Our mission has always been to help single people have more success at meeting new people, in order to give them a better chance of starting a relationship," said Match.com President Mandy Ginsberg. "Now the advent of new technologies has allowed us to leverage our massive national membership scale to meaningfully expand the extent and nature of the positive impact we can have, and to make it more fun and natural along the way."
Notice how the company line is to give people a better chance of starting a relationship. They never promise that their matching algorithms are perfect, only that they will surface, or expose to you the most appropriate people (according to Match). After all, people are really good at screwing up relationships, Match just takes the credit for introducing them to you. The nuance of this statement seems to be lost on a lot of people.
Fun and natural is not a phrase commonly associated with online dating. Will the re-introduction of live events make dating via Match more fun and natural? Lets find out.
Consider the phrase "Leveraging massive national membership" from the press release. This is something that most dating startups don't seem to grok at a deep enough level. Match and Spark and POF and several other sites will out-bid you on keywords on Facebook and Google so badly that you will never have a chance at competing with them. Thats a fact of the business. I've never seen a new dating site in a decade that didn't make it to the big time without an enormous marketing budget. It doesn't matter if you're mobile, or friends matching friends or you give every new member $25.
With 10-20,000 new members every day (a mix of paid and free subscribers), Match can afford to try something new every once in a while. Not that they venture outside of their comfort zone very often. But who's to blame them, mo' members, mo' money has been the name of the game for Match the last few years. The company has around 1.7 million paying members, with three million people paying a subscription fee over course of the year.
When it comes to marketing, Match is going to to a big push around Events and Games (we'll talk about games later), including television. I love the Match TV ads, which strike a positive note while depicting first dates, traditionally perceived as very uncomfortable experiences. Hopefully we can show you the new ads here before they launch nationally in the US.
Match has been doing a number of test market events, focusing on different crowds ranging from young to urban, gray-hairs and even the gay market.
We've talked about MatchLive in previous posts. That was a decade ago before everyone involved with the new Match initiatives were even at the company. After a decade of online dating, perhaps singles will warm up to the idea of congregating with other singles expressly at a given location to meet others interested in forming relationships.
Then its just a matter of Match's silicon brain inviting the right people to the events. Cooking classes are stupid, I don't want to hang out with losers at some lame bar on a Monday night. I want to drink scotch and then hunt deer with grenade-tossing brunettes. An extreme example  the breadth and diversity of singles in America, but indicative of the challenge Match faces as they strike various event partnerships, which will be super-important to the success of the Events initiative.
Now, let's talk mobile.
The Stir will feature a whole bevy of functionality focused on increasing pre, during and post-event discovery and messaging. See who's going to be at an event, discover like-minded folks during events, and stay in touch with them afterwards. During the event, food, drink and other specials will be offered via mobile as well.
While lots of people have smart phones, the majority are still using feature phones. That was great when Dodgeball was *the* social networking app for mobile, but these days, getting a solid feature set to run across myriad phones is a PITA. Match is going to be trying and testing things to see what works best for the largest amount of people.
I was somewhat surprised to see that the Crowded Room app has nothing to do with The Stir. I would have thought that with all the effort IAC, Match's parent company, put into CR, that it might be part of the mobile aspect of Events & Games. Not so.
Talking about mobile Shar said something interesting, that they would love to have technology like Bump for sharing information. I've been using Bump for years, and am surprised that it's not been acquired and rolled into iOS as a baked-in feature. Sharing custom contacts and photos, revealing only what you feel comfortable with a certain person, is a great way to network. At first you get a few photos of me and my throwaways gmail address. If things progress nicely, I'll share more personal information, perhaps even my Facebook URL.
At The Stir, answering questions in order to be connected with people is in the works. Kind of reminds me of Lock And Key Parties, which are actually quite fun, if not overly analog in a digital dating world.
Oh, and The Stir is not going to have speed dating, so 8 MinuteDating and all the rest don't have anything to worry about. Now Speeddate.com, something tells me they should be a bit nervous.
Besides the algorithm improvements (can I get an ROI on that please?), the last Match feature of any import that I remember talking about was Daily 5, and that was several years ago. Granted, over the last few years Match went out and bought most of their competition. People Media, Meetic, OkCupid. who else is there to buy that can contribute meaningfully to the Match empire? I'm not talking just eyeballs, but value to the company, in terms of innovation. Its too bad that the dating industry doesn't take after Facebook, buying a few companies a month, usually called talent acquisitions, to bolster certain areas like matching, messaging and meetups.
Back to the Company Line:
The Stir, consisting of hundreds of local events each month, will range from large-scale happy hours to more intimate events, such as cooking classes, wine and tequila tastings, dance lessons, bowling nights, rock climbing and more.

A big part of meeting people is going out and being social, and the Stir improves that "going out" experience. When you go to a Stir event, everyone will be single, everyone will be looking to meet someone, and each event will be customized through our group matching algorithms in terms of age, gender and interests. In short, the Stir addresses some of the fundamental pitfalls of a typical night out for single people.

Members can learn about and sign up for these events via Match.com, and subscribers can even invite friends and bring them along as an added benefit. At each local event, attendees can leverage their mobile devices by checking in and receiving special offers from the venues on food and beverages. Over the coming months, Match.com plans to introduce other ways for online elements to enhance the event experience, such as the ability to invite other members to an event, create in-event engagement, and re-connect online afterward.

As part of an ongoing beta program, Match.com has organized 60 Stir events across 10 U.S. markets to date. The response has been tremendous, and the initiative will accelerate by September to include over 200 events each month, with thousands of people participating every week.
Like most cocktail parties, Match has observed that the first 45 minutes of singles events can be uncomfortable. After that, people tend to relax and loosens up, due to alcohol intake or just that sense of "What the hell, I'm here, might as well make the best of it." Getting people to stick around that first 45 minutes is key. If I went to a Match event, I'd show up right when it starts.
Match has created a new Events business unit to manage the many moving parts behind getting hundreds of thousands of people to attend hundreds of events each month. The logistics behind marketing, managing third-parties like cooking schools that take payment for services and have to share that money with Match, evolving the algorithm to suggest better blends of compatible singles, and many other tasks, is no doubt daunting.
Speaking of algorithms, its interesting to see Match extracting additional value out of their greatly-improved matching system. I'll leave it to you to define greatly improved, but allegations of ineffective matching systems aside, the Match system is pretty amazing and its great to see them leveraging it to create pop-up singles events with at least a bit of the randomness removed.
I learned long ago that certain types of people will always say dating algorithms doen't work. I'm tired of that discussion. Of course they don't work very well, but at least dating sites are beginning to make an effort to move matchmaking out of the Paleolithic era. Nothing else I or anyone else can say or do is going to change this anytime soon. Remember, dating sites are simply introduction services. Once you make them out to be more than that, you put them on a wobbly pedestal thats guaranteed to disappoint some of us from time to time.
eBay needs to be perfect, days in and day out. Online dating is, and will always be, a best-effort industry.
Creating more meaningful connections is what Match is about, and they are getting serious about innovating past the "online dating hasn't changed in a decade" argument that is perpetually thrown at the industry. With The Stir, Match has two primary areas of focus, increasing customer lifetime value and converting free members and their friends into subscribers, all while we're checking in to locations, getting free drinks and chilling out with other singles at freeform early-week bar takeovers or more structured, fee-based events. After talking to Mandy and Shar, I'm pretty optimistic about the new services. I'll definitely make the trip into Boston to go to one of them to check it out to see how different they are from the many other live events I've attended over the years.
As I was writing this I came across SceneTap on VentureBeat.
Imagine this. You and your girlfriend walk into a neighborhood bar, order a cocktail, and, unbeknownst to you both, a camera above is scanning your faces to determine your age and gender. Your deets are combined with data on other bar patrons and then spit out to looky-loo mobile application users trolling for a good-time venue with the right genetic make-up.

SceneTap is a maker of cameras that pick up on facial characteristics to determine a person's approximate age and gender. The company works with venues to install these cameras and track customers. It also makes web and mobile applications that allow random observers to find out, in real-time, the male-to-female ratio, crowd size, and average age of a bar's patrons.
And you thought Facebook and Google knew a lot about you. Seems like the natural evolution of Assisted Serendipity. The Chicago-based startup went live in San Francisco at 25 bars on Friday.