After a bummer of a sale to FriendFinder Networks, which has proven adept at killing off perfectly good acquisitions, Nerve.com has launched a new dating site.
Many people, myself included, consider Nerve/SpringStreet to have been the best "first wave" dating site. Anyone who knows me personally knows how much I like OkCupid and Match, which I tend to write about more than any other sites, but thats because they are doing more than any other sites! Lots of contenders to round out the top five of course, thats for another post.
Speaking of Nerve Personals/FastCupid, back in 2006 I learned that if you spend 100 points a day you become a featured member on search page or that if you spend 2000 points you get your profile highlighted for one month. Sounds like Badoo, right?
Look at eHarmony trying to be all hip and cool. This is what a brand expert would call brand dissonance.
According to Urban Dictionary, The Wingman will always be there to "occupy" least attractive girl of the pair so that you may engage in the "hotty". If it didn't say eHarmony, I would have guessed the ad was for HowAboutWe. No word if eHarmony also acts as a "pre-wing".
Look at this Christian Mingle ad. Cute "Church Girls" that look like they just got out of Bible study class and decided to sit in each other's laps for a while, how nice. Proves that Christian sites are no different from any other dating sites and will do whatever it takes for more clicks.
Students in The iSchool at Drexel, College of Information Science and Technology completed a study that takes a closer look at the success stories of online daters. Reminds me of the Online Booty Call claim from years ago, "Reaching the one million member mark with only a single reported marriage is a tremendous accomplishment."
A summary of what they found:
1.       eHarmony – Success = marriage (in 84 percent of success stories reported on the site)
2.       Match.com – Success = dating (49.2 percent of success stories are about getting a date)
3.       OkCupid –  Success = something other than marriage (only 23 percent of success stories on this site are about marriage)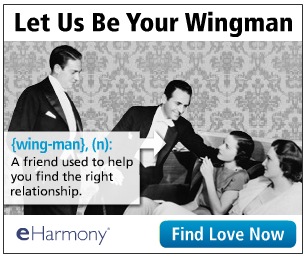 Moonit's new Social iPhone App is free and offers valuable insights into your romantic relationships. Users can view their percentage compatibility and a short, entertaining paragraph of tangible advice on what to appreciate, what to look out for, and what to work on for that particular pairing.
After receiving their relationship compatibility results, users can continue the dialogue by chatting with each other using the messaging functionality right inside the app and make plans to meet up in person.
RedLightCenter.com, the world's premier adult virtual world, and UtherConvention.com, the world's only convention planning and execution company that holds fully interactive virtual conventions, announced they will join together to host the first-ever Adult Entertainment Virtual Convention on Feb. 25 and 26, 2012. Event organizers confirmed this week that Seka (talk about old-school!), the mega-porn star of the 1970s and 80s, will be speaking at the Expo.
Work at OkCupid: They have been growing rapidly, and their team needs the best and brightest to help solve some of the most challenging problems in the field. Want to join 'em?