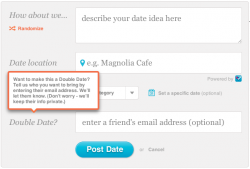 HowAboutWe has launched a new feature, Double dating.
When you want to post a great double date idea, simply add a friend's email address into the date idea form along with your "How about we…", Date location, and Category.
This feels clearly like a 20-something feature, what is the age cut-off for double dating? 30 or 35 or am I sounding like an old fart?
There are a lot of old people over 40 on HAW, we'll see what the interest level is like after I cajole a friend into a double-date with me and a few lucky ladies. Indoor skydiving, mountain oyster tasting or ice skating at the park, hmmm.
Perhaps HAW's double-dating idea will take off somewhere unexpected, like Ignighter and their success in India. Are some countries more double-date friendly than others?
Thankfully their VC shared a lot of tidbits on a recent press release.
"HowAboutWe has grown tremendously with its team of 16 people and without much capital. Last October users sent 24,138 messages on the dating site. Last month 302,047 messages were sent. More than 400,000 dates have been posted on HowAboutWe since its launch."
How many emails were sent is not very interesting. I want to know how many messages were responded to.
Currently signing up around 1,600 new members per day (paid subs or free accounts?), HAW's fresh $15 million in the bank will enable them to initiate some seriously loud "busy season" marketing.
If HAW is currently signing up 1,600 new members per day and assuming that members are paying customers and not free accounts, that number jives with what top dating sites convert daily. If not, what better way to spend $15 million?
HowAboutWe has also been securing publisher partnerships. It powers personal pages for more than 15 publishers including New York Magazine and Parenting.com and takes a cut of the revenue. I've been waiting for White Label Dating to make a big splash in the US for years now. Has HAW beaten them to the punch in terms of partnerships?
Remember when Spring Street Networks powered all the great media sites? After it crashed, nobody really came in and took over the market, at least in the US. ELove and a few others had some wins, but nothing much to speak about.
Now it looks like HAW is going to come in and take all of those plum media partnerships. Good for them I say, but will dates based on date ideas work for media platforms?
Has anyone else noticed that most people tend to clone their Match/OKC/POF profile and use it on HOW? The amount of membership duplicity between the two sites is amazing.
The question used to be, "When is HAW going to copy a Match feature (snicker). Now it's "When is HAW going to get big enough so that Match will buy them and they can repay investors?"
Amazing to think that HAW could have bought PerfectMatch several times over.
There's been a surfeit of interesting things going on in the dating industry in the last month or so, much of which I have not commented on. Maybe its time to do a podcast and blast through it all.