Several months ago Match.com developed a HowAboutWe clone called DateSpark and rolled it out in select test markets. Looks like the testing went well, because this morning I was greeted with the following.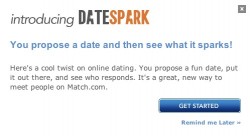 One outcome is that HowAboutWe sues Match for a lot of money, settles for a few million and licenses their patent to Match. In and out of the dating industry in two years, make several million, not a bad strategy. Or HowAboutWe does nothing, and hopes that the feature dies on the vine at Match.
Unfortunately for HowAboutWe, Match copied them before HAW got large enough to be considered an acquisition target.
When they originally found out about DateSpark (on this very blog) the HOW founders said:
While we're flattered by Match's imitation of us, we're not worried. It's kind of like, "C'mon guys….it's still just Match."

We're so confident that our site is superior that we're offering all Match.com subscribers 3 months free on HowAboutWe.
It's just Match… up in yur serverz, copying yur codez, stealin yur members.
I told Brian and Aaron that a big site like Match would copy them when I first met the HowAboutWe founders at a Starbucks in Boston a few summers ago. Shortly afterwards I said, "You are developing a feature, not a dating site. Match will copy you, get patents and a great IP lawyer, you're going to need it."
Lots of other sites may clone HAW functionality once they see that works for Match. To boot, many people on HAW are on Match as well. Keep an eye on HAW traffic stats over the next few months as Match promotes (or does not) DateSpark.
Can HAW weather the storm and continue to exploit a feature to grow large enough to remain sustainable? We'll have to see how they deal with the incursion from Match.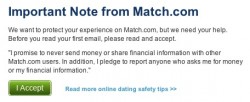 Also seen on Match this morning, a Terms of Service update stating I won't send money or share financial information with other users.
Ignorance abounds on the net, and the number of people falling for dating scams grows every day. Its a lucrative scammers market, especially when she is hot and European or he is kind and considerate and "just needs a few bucks so I can come see you."