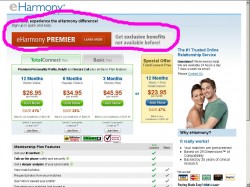 eHarmony Premier launches, looks like they are pushing for one-time payment of $503.40. eHarmony has a lot of membership options these days.
eHarmony also has a new CEO. Former Zynga general manager (Farmville) Jeremy Verba has jumped ship to helm the expanding dating site (1 million mobile app downloads, sites in 16 countries, 30 percent of eHarmony's user registrations are currently taking place within the mobile environment.)
A good sign that eHarmony is doing well is its current 33 job openings.
Breaking the Online Dating Sound Barrier has written an open letter to Mr. Verba. I wonder what they will do with Jazzed? More at TechCrunch.
Match is asking affiliates to stop mentioning total number of profiles or signups per day.
We would like to ask for your immediate assistance in removing any marketing copy that refers to the number of free or paid members on Match.com or the estimated volume of users joining Match.com on a daily basis. Examples of such copy that we have seen includes, but is not limited to, "Over 15 million members" or "Over 20,000 singles join Match.com every day". Due to a change in the Match.com advertising policy, these types of marketing claims are no longer allowed.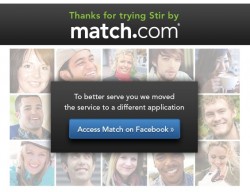 Match continues to play hot-potato with Stir. A visit to the Stir app on Facebook now shows that Match has basically embedded Match Lite into Facebook and added a Hot Or Not feature. Not a fan of photo rating as the primary feature, hurts the Match brand and not what they are about, too casual. Anything for clicks, as they say. I wonder how many people will use Match via Facebook as opposed to the website or mobile app? I use the mobile app more than anything these days.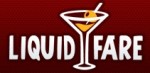 Liquid Fare is the quintessential mobile app for bar-hopping singles. Rate local bars, lounges and clubs in terms of age, style and attractiveness of the crowd.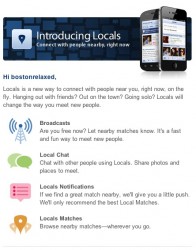 OKCupid launches Locals feature. Share photos and suggest venues, chat with locals, notifications of matches nearby. Big dating sites adding location-based services will almost always fare better than startups launching free mobile apps that have to pay ridiculous amounts to acquire new members.
Spark Networks announces 2Q 2011 financials. Revenue for the second quarter of 2011 was $12.0 million, an increase of 17% compared to $10.3 million for the second quarter 2010. Total cost and expenses for the second quarter of 2011 were $12.3 million, a 43% increase compared to $8.6 million for the second quarter of 2010. Net loss for the second quarter of 2011 was $81,000 compared to net income of $923,000 for the second quarter of 2010. JDate revenue up 1% to $6.73 million. Read more.