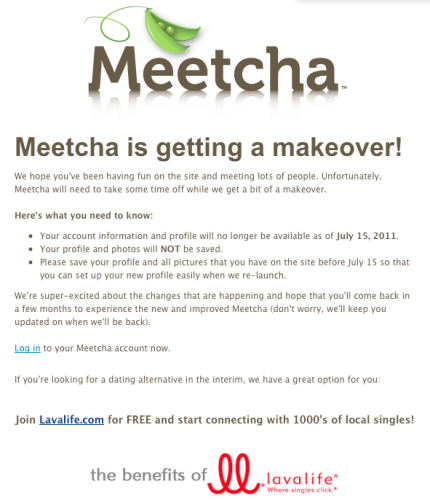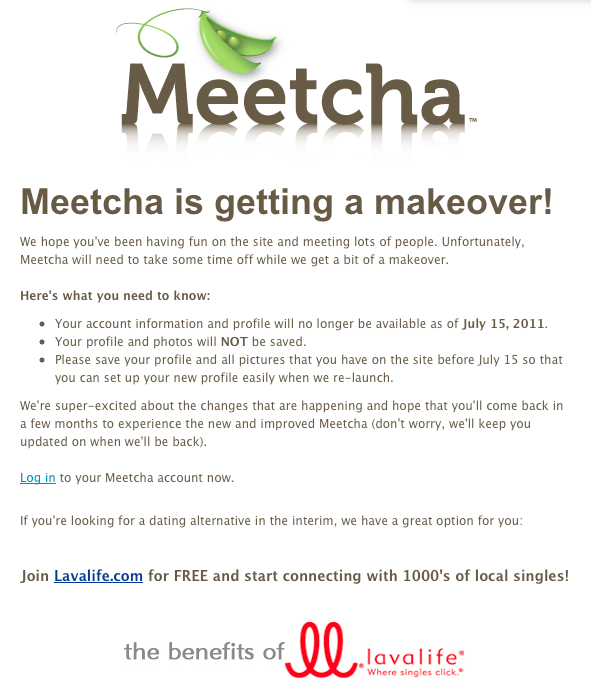 This spring I worked with Jeff Taylor and the team to help Meetcha find a new home. Now its official, Lavalife is the proud new owner and congrats to them on the acquisition. What follows are my general thoughts. I have no knowledge of the following and I am not violating the NDA I am under in any way, just so we get that out of the way. Second disclaimer, I've spent some time with the Meetcha team as they were building out, and by way of serendipity, their parent company was my landlord last summer. Good folks all around.
Now its time for the questions, starting with what is going to happen to Meetcha as we know it?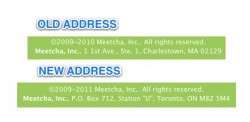 Why are thousands of active profiles being deleted? How many people will actually go through the re-registration process? Its a breeze in its current format, not a lot of friction, but still, deleting them outright?
I don't think Lavalife is a Ruby on Rails platform like Meetcha. Lavalife could be taking the logic of the site and recompiling it on their platform. Meetcha seems like it would be a pretty clean site in terms of logic, and its freshly developed, so not a lot of legacy cruft to make developers lives a living hell.
Ask anyone who has bought an Internet property and tried to transfer it across programming languages, never an easy task. Often companies will do a database export of user data from the acquired site, tweak their database schema to match it (some of the time, lots of dating site examples of companies dropping key functionality because it was such a pain in the ass to replicate.
I recall that a dating site did just this recently. It was acquired, the acquirers jettisoned the "difficult" functionality, and members who made the jump gave them holy hell. Not fun. See Apple and its recent Final Cut problems and you'll understand this at a more visceral level.
Templates shouldn't be that difficult to graft onto Lavalife platform. Or it will be a total nightmare, who knows.
Maybe Lavalife wanted the brand, but didn't want to hire a bunch of Ruby on Rails developers to support it. Supporting two different platforms can be difficult and taxing on internal resources.
They could copy over and tweak just the design and branding assets to fit the current Lavalife platform and hope that a few legacy members come along for the ride and don't miss the core features that made Meetcha so inviting.
Or perhaps they will simply throw the templates and/or functionality on top of Lavalife Prime, which doesn't have any traffic to speak of from what I can tell (correct me if you have Comscore data in front of you).
The above are just guesses as to what Lavalife will do with Meetcha. There are no doubt any number of other possible solutions that I haven't thought of. In any event, it will be interesting to see what aspects of Meetcha survive the transition.
Here's my First Impression of Lavalife Prime when they launched in 2007. That didn't really go anywhere at the time. Consider Meetcha as Prime Version 2.0. We do know that the senior dating market is red-hot right now.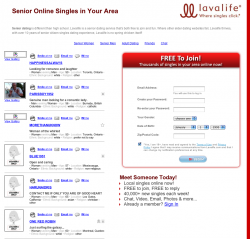 Here's the existing Lavalife Seniors page, not sure how long that will remain. Here's Lavalife Prime.
Did you know that last fall Lavalife became the exclusive online dating site for Yahoo! Canada? I love that they mention that Lavalife members  exchange 1.3 million messages every day. Transparency is good.
I'm trying to get someone at Lavalife to comment on the deal. Details forthcoming.