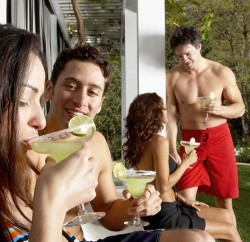 Vindicia launches new version of CashBox billing solution. A few weeks ago I met up with vindicia CEO Gene Hoffman, who told me they now have a number of big dating sites as clients. Gene is awesome, his team is top-notch and they really understand customer retention and acquisition through integrated marketing best practices like no other company I've come across.
LikeALittle – Flirt anonymously.

Hanginout is an Interactive Video Q&A Publishing Platform. Chris Dunn, who was CEO of Mobeze (OnlineBootyCall, Herway), is a co-founder.
I don't understand Cloud Girlfriend, who's tag line is "The best way to get a girlfriend is to already have one." Its a mashup of Match and SecondLife but the description is "We allow people to define their ideal self, find their perfect girlfriend or boyfriend and connect and interact as if that person existed. It can help in learning how to manage a real relationship, and they then take it into the real world." I'm all for giving singles the tools they need to be better daters, but this is a bit over the top. More at TechCrunch.
The Four Viral App Objectives (a.k.a., "Social network application virality 101?)" Nice overview of K-factors, influence mechanisms, active hosts and more viral marketing information.
Final thought via Ad Contrarian, which is an insightful and amusingly unvarnished look at marketing and social media. Economics and demographics tell us that young people are no longer a terribly attractive target for most marketers. Over 75% of the wealth of the country is in the hands of people over 50. And yet our advertising and marketing strategies today, if anything, are more focused on youth and youth culture.