Match.com acquires NYC's OKCupid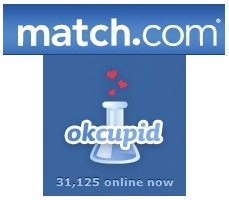 Today Match.com, announced that it has acquired OkCupid, the U.S. online dating company, for $50 million in cash, plus potential future payments contingent upon performance.
Its about time.
OKCupid is the fastest-growing ad-supported dating site, catering to a younger casual crowd. Everyone knows I've been a huge fan and supporter of OKCupid, and I'm extremely happy for the the entire OKC team.
Match should be pumped as well. They are getting access to a brain-trust bringing a lot of dating industry experience that Match simply doesn't have.
Match has executives that do laps around IAC properties, receive some Match experience, then move on whereas OKCupid are a bunch of heads-down computer scientists who could care less about Match or any other dating site for that matter. They do what they do better than anyone else hands down, and thats all the matters. Last time I was at their offices in New York one of their staff thought I was delivering lunch.
From an inspirational, feature and design standpoint Match needs OKCupid more than OKCupid needs Match. Probably not going to happen but how much do we hope that the OKC design sensibility and feature set rubs off on Match's aging look and functionality? I know Lavinia from Thought-Rocket has been working with People Media after the Match acquisition, but the whole Match patchwork quite of sites is beginning to look like Spark Networks.
OKCupid simply needs Match's resources for television commercials and other marketing and advertising channels and maybe help with international growth. I mean, what else can Match do for them that they can't do themselves?
In general, lets hope Match keeps their paws off of OKCupid.
One would expect Sam Yagan, Chris Coyne Max Krohn Christian Rudder and the rest of the team to stay on board until performance payouts are due. Sam and his group have made a fortune taking things that are traditionally fee-based and making them free. I wonder what industry they will free up next?
Match CEO Greg Blatt seems to see all of their acquisitions as feeder sites for the Match mothership.
We know that many people who start out on advertising-based sites ultimately develop an appetite for the broader feature set and more committed community, which subscription sites like Match.com and Chemistry.com offer.
[This was cribbed from Markus at Plentyoffish, who built his entire dating empire on the fact that people quickly get tired of his site, click an affiliate link to another dating site and Markus makes $50. Absolutely brilliant five years ago in terms of raking in the cash, this model doesn't work very well from a branding perspective.]
While Blatt's statement makes sense from Match's perspective, it doesn't apply to OKCupid in the least. People are on OKCupid because they don't want to be on Match. And OKCupid members certainly don't want anything to do with Chemistry.com. Approaching OKC like a training ground for future Match members doesn't make sense. Maybe for other IAC (owners of Match) properties but Chemistry.com? Please.
And Match's broader feature set? Go compare Daily5, date matching and MatchWords to all of the features at OKCupid. Match does have more customer service reps than OKCupid, which doesn't have any because they don't need them.
The argument that Match members are more serious about dating vs. OKCupid has some merit, but there really is only one serious dating site now and thats eHarmony with Chemistry right behind them. Match is simply too large now to be considered for serious daters.
Speaking of not wanting to be on Match, last year according to Dad's House:
OKCupid analyzed the success rate of match.com and eHarmony, piecing together numbers from their websites and press kits and press releases, and arrived at an interesting conclusion – you are 12 times more likely to get married this year if you DON'T subscribe to match.com!
Rivals turning into friends, isn't that sweet?
Any time I hear executives say things like "coordinating the adjacent business models will help fuel continued growth for both" I get nervous. That's what eBay said about Skype and look how that turned out.
Match had 1.4 million paying members for years and finally last year that number grew to 1.8 million which I was pleased to see. Match finally seems to be turning on the afterburners, and OKCupid is the most recent booster rocket, providing additional thrust to a business that has in recent years attempted to fuel growth via feeder sites they acquired like People Media, SinglesNet and the international partner deals with Meetic and Yahoo (and lets not forget Match powers a lot of Microsoft sites).
Its time to officially declare online dating a mature industry and with that the realization that 2002- 2005 were the glory years. The dating industry is about acquiring traffic as cheaply as possible and wringing as much revenue out of members while moving chess pieces around a board and maximizing shareholder value.
Part of me is disappointed that my favorite dating site has sold out. $50 million was too low a price to pay but its cash and an "ok" deal for OKCupid. Who's the new dating site underdog?
More at Business Insider, TechCrunch and IAC Investor page.
Crains New York Interviewed me about the deal in Match.com acquires NYC's OKCupid.
The Atlantic points to a story that OKCupid has taken down blog posts critical of paid dating, Match specifically. Here's a cached copy of Why You Should Never Pay For Online Dating. Shoot, I would take down a blog post for $50 million, wouldn't you? Its not like OKCupid has changed its tune about free dating, it just has more layers of administrivia to deal with and another company to send checks to.