Artists are doing fascinating things with data from dating sites.
From WNYC:
In 2008, Manhattan-based artist and programmer R. Luke DuBois set up an account at Match.com. DuBois was fascinated by the way people presented themselves online and quickly discovered that by manipulating small details in his own profile (such as listing the zip code of a neighborhood one over from his own), a completely different set of possible matches would emerge. "I started playing it like a video game," he says of the process, "where I would change things in my profile to see how it affected things."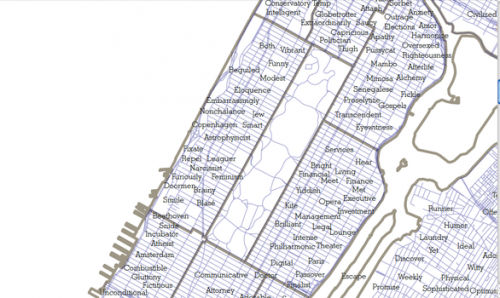 On Manhattan's Upper East Side, for example, you get words like 'transcendent.' I mean, who uses 'transcendent' in a dating profile? The whole DUMBO/Brooklyn Heights area is pretty funny, too. You get works like 'dick' and 'graphic' and 'artisanal,' as well as 'postmodernism' and 'cheese.'
…the funniest thing about New York is that people are very specific about name-checking their day. They like to name what neighborhood they work in and what restaurants they ate at. People in Phoenix won't do that. But in New York, a woman might write: 'My day is crazy because I work in Gramercy and I live in Brooklyn and I want a guy who takes me to Pastis.'
The only places where people will use negative adjectives about themselves are New York and Chicago.
The maps are now on view at the Bitforms Gallery NYC.
Absolutely brilliant. Thanks to dizzycat, who has been providing more quality links than I can possibly dig up on my own lately.