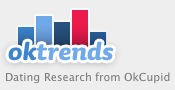 Have you read OKCupid's latest blog post, The Mathematics of Beauty? If not, go read it then come back.
Welcome back. I'd like to discuss is why sites like OKCupid provides arguably better matching between members than eHarmony or Chemistry.com, why companies like IntroAnalytics mean so much to the success of the online dating industry and why you have to big a big site to really improve the effectiveness of online matchmaking.
I'll also point out that academics studying matching and compatibility and the out-there folks ranting about  16PF5-based personality matching are pretty much useless unless they have a workable way to apply their ideas online dating matching algorithms systems.
Perhaps its a good idea to give people a test based on 16PF5 or whatever your favorite flavor of test may be, but studies like this by OKCupid show that studying the behavior of how singles browse, search, communicate and ultimately date is far more important/interesting, at least to me. I love when people take the time to clarify and explain our gut feelings about things, especially the messy art of introducing to strangers and telling them they should meet each other.
I put IntroAnalytics in the behavioral matching camp as well. Let me know if their are other vendors out there working on this stuff. I know I mention IA a lot, but thats because they seem to be the only ones out their doing behavioral matching for dating sites. I heard from another Netflix Prize contender that is doing similar work, hopefully they will chime in publicly.
Big dating sites can afford to hire data geeks to parse terabytes of data looking for clues to what makes a successful match. If you run a white label or custom-designed site, its much harder for you to get access to or create the technology required to do such data analysis, at least from a cost and a resource perspective.
Big sites are too big to do anything meaningful.
Small sites can't afford the expense of innovation.
Vendors come in and fill the void, and yet sites both big and small still resist change. (Slaps forehead).
Don't worry, we'll get to the curse of being cute soon.
A couple of quotes from the article that surprised and intrigued me.

If someone doesn't think you're hot, the next best thing for them to think is that you're ugly . Wait, what?
And now, The curse of being cute: Someone conventionally cute, but not totally hot, might appear to be more in-demand than she actually is. To the typical man considering her, she's obviously attractive enough to create the impression that other guys are into her, too. But maybe she's not hot enough for him to throw caution (and grammar) to the wind and send her a message.
The whole article is full of fascinating commentary like this. I could read this stuff all day.
Perhaps to psychologists and sociologists this is old hat, but I don't think I've ever realized that being a cute guy has hampered my dating efforts ;-)
In case you were wondering, this is not just about OKCupid. There are a number of sites which do perform some behind-the-scenes matching magic along the lines of secret algorithms, behavioral matching and the like. The problem is, they never say anything about these features, which makes it hard to talk about them.
I do know there is one one dating site having to do with lots of fishes that does a lot to hide people from me on their site. They don't worry about finding the five people best for me, but hiding the 4.5 million that I'd never date. Thats the difference between search and filtering, which is a whole other conversation.
Clearly, there is a fine line defining what a dating site will say about how it operates. Google for example tends to send out a press release when they achieve efficiency and effectiveness milestones. In dating, the less consumers know, the better.
I am truly amazed that Chemistry.com has not chimed in on this. Dr. Helen Fisher wrote an entire book based on her observations of hundreds of thousands of people using Chemistry.com (sister site and eHarmony-killer run by Match.com.) Where is the insight, the discussion and the industry-wide application of what we are learning about the human condition when it comes to dating?
My favorite quote from the article. "We now have mathematical evidence that minimizing your "flaws" is the opposite of what you should do."
This, more than anything, is the takeaway I want to leave you with, both dating industry insiders currently in Miami at iDate discussing the future of the online dating industry, and singles alike.
Dating industry: Stop being afraid of change and taking risks. This fear is why the industry has reached a plateau in terms of members and revenue. Today at iDate someone said that technological change in the dating industry is 10 years off. Whomever said that really doesn't have a clue about what they are talking about. Change is happening now, just behind closed doors and a lot slower than we would like.
Singles: Be yourself, be authentic and you'll be ok. 99.9% of women out there don't like what I have to offer. The heck with them, I'm in it to find that .1%. Why waste valuable time and energy widening the net when its better to tighten it? Exception: geographical search radius. Take a chance, go set yours to 1,000 miles and see what happens.
Finally, it sounds like the OKCupid article was based on a person's photos and didn't take their profile content into consideration. With that in mind, if you have a cropped, above-waist overexposed and blurry photo, well you lost the game right there. What a nice lead-in to mention DatingHeadshots.