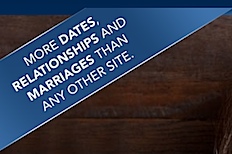 Match is bringing the "who's is bigger" argument right to their home page. Of course they can say that they have more of everything, Match has been around since 1995.
Super Whales: Top Social Game Spenders Pay More than $10,000 Apiece for Virtual Goods. Fascinating article from Inside Social Games that says a small percentage of "whales" spend tens of thousands of dollars on in-game virtual goods. In the dating world, the most you can usually spend is a few bucks on search result highlighting, VIP communication features and maybe ID verification. Most go directly to matchmakers, but who are the "whales" in the online dating space?
Dating Site For Cheaters Offers $25 Million For Naming Rights To New Giants/Jets Stadium
http://consumerist.com/2010/06/dating-site-for-cheaters-offers-25-million-for-naming-rights-to-new-giantsjets-stadium.html
Chatroulette Enlists Shawn Fanning In The Fight Against The Masturbators. Chatroulette is Myspace, and countless other services are fighting to be the real-time videochat king. MyChanceromance is the latest to enter the fray.
Match loves Chatroulette because it's solitary "Dating" button at the top of the page leads to Singlesnet. I would be A/B testing a ton of different sites on that link to see what works best. Surprised Zoosk didn't outbid Singlesnet for the exposure.
"There just isn't anywhere on the Internet for you to meet new people anymore," says one investor that wants in on Chatroulette. "The potential for online dating, which is largely what pushed early Facebook growth, is unlimited."
I couldn't agree more. I trot this number out several times a week, 110 million singles in the US, and only 30 million or so try online dating each month. The industry has a lot of headroom to grow, but its not going to happen based on the traditional online dating models, which is why it is exciting to to up and coming sites challenging the status quo.
Zoosk broke out and is doing lots of partnership deals and videos, but it's really just another dating site with better marketing than most. Is the next big breakout site going to be generic casual dating or something different? My bet is on something different, and it's not going to be video, yet. Several sites are threatening to launch this summer that could potentially be game-changers. I'll have some interviews up soon.
Plzsayyes is a dating service based on SecondLife. Now that SL is moving to the browser and away from a standalone application, these types of services will continue to launch. The primary problem is that, hello, it's SecondLife. Complicated to use, difficult to understand what's going on or where you are, and just finding a pair of pants that fits is difficult enough in SL. Not exactly the smoothest way to meet people unless you have some geek in you.