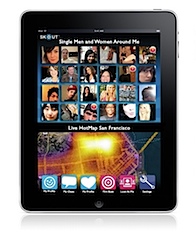 Christian Wiklund at Skout said they are launching a version of Skout (500,000 members) for the Apple iPad.
The new SKOUT.COM iPad app will not only show you singles nearby who are active and ready to chat, it will also boast a new concept: The HotMap. The Map will display a live overview of where most singles are currently active in your area. If members are searching for men between 25-30, the map will show the highest concentration of the results on the map.
I love heatmaps. It would be great to see density data for dating sites so singles could see which dating sites are the most popular in their area. No big dating site except maybe OKCupid will do this but one can dream.
I've received a number of news releases about location-based dating services this week. I have interviews with several companies this week, more to come. Press Release.