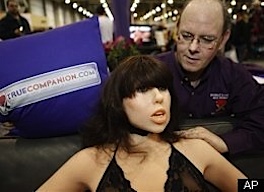 Douglas Hines is an electrical engineer and computer scientist who formerly worked on artificial intelligence at AT&T Bell Laboratories. Roxxxy, the latest "sex robot" from the company Truecompanion.com. Hines combined his background with the expertise of 18 artists and engineers from three countries to create a robot designed to "deliver the best in robot sex." The project cost between $500,000 and $1 million and took about 2½ years to create, Hines said. Via ABC News.
Years ago I contributed to a book about cyber sex, specifically regarding teledildonics. This stuff is just starting to gain consumer adoption, expect to see some remarkable innovation in coming years.
No word yet if Online Dating Insider is going to get a demo robot, but it made my day to click the "Order A Sex Robot" link on the website, too funny.