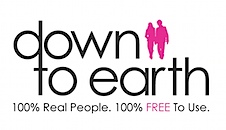 Match.com, the world's largest online dating company, today announced the launch of DownToEarth, an innovative free online dating site. Last week I spoke with Jacob Solotaroff, the former Director of Product Management and Member Integrity at Match.com, who is tasked with running Down To Earth. Steve Hammer, who heads up marketing for Down To Earth, was on the call as well.
We've all been waiting for Match to launch a free dating service. In the past they have discussed acquiring free dating sites, and last summer decided to forge ahead and build their own. Match realized there is room for a new free dating site which is clean and simple, a clear and direct response to PlentyofFish and to some extent OKCupid. Down To Earth went live in December 2008, signing up 1,000 daily. Looks like around 20,000 people have joined the sites in the last few weeks, at least according to Compete, although you know how I feel about third-party analytics, the trends are usually spot on, the actual number, not so much. As a measure of success, Down To Earth is targeting 250k members by the end of 2009.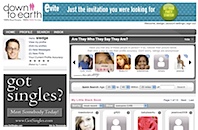 DownToEarth.com's cornerstone feature, RealRatingsâ"¢, encourages daters, after meeting in person, to rate the accuracy of the information provided in the other person's profile. The five-star rating system allows daters to score the other person's accuracy from ˜Not Even Close" (one star) to ˜True to Life" (five stars). Through actively encouraging daters to participate, DownToEarth.com empowers its community to create the dating environment they're seeking.

How RealRatings Works: After you've communicated with someone, you are asked if you've met face-to-face. If so, Down To Earth encourages you to rate them on a scale of 1 to 5 stars, where 1 star means "not even close" and 5 "true to life." Real Ratings let's you sort search results by reputation, login, newest users first.
Based on respectability and reliability, down To Earth believes that if people know they'll be called out on outdated pictures and little white lies in their profiles, they'll be less likely to post them. As part of the community you can help Down To Earth keep the site full of honest and respectful singles.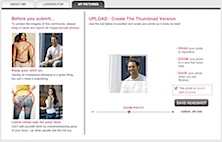 Down To Earth will have a lot of new features coming down the pike to prove our users are who they say they are. Finally, a dating site that is taking ratings and reputation seriously! I have been rated yet, will be interesting to see how that works. Update, I just got rated, by a female friend. Where's the ability to add testimonials?
I asked Jacob about how Down To Earth fits in with Match corporate. Currently less than 10 people. Development was outsourced, running the same Microsoft system as Match. The company is located in the same building as Match and Chemistry to optimize workflow. They are getting lots of advice from Match, which has been around for 13 years.
When asked about profile approval and customer service, I was told that Down To Earth has no customer service, instead relying on community-based policing. Members can report each other via links on profiles and messaging threads. Married people get kicked. Not sure how they will accomplish this. Jacob says identity checking is "interesting".

Who's on First? Signups to day have seen a large number of 18 year-olds. The site is not specifically targeting a particular market segment at this time. The site is seeing strong numbers of signups from the south and southwest. Most of them women I've talked to are vocally Christian and divorced. See below for a possible explanation.
We talked about opening a bar and how some bars aim to be a neighborhood bar, only to turn gay after a few months. Or a gay bar that turns into an after work hangout or sports bar. My point is, you can only do so much to guarantee the demographics your want on your site are actually the ones that show up.
Down To Earth used a 30 year-old woman as guide. A single mother goes to church every week. Composite. Funny that I personally know 5 of the women on the site in my area.
The Down To Earth team pays close attention to YouTube, eBay and social networks for inspiration. Right now they are focused on building the community, not monetization. Notice the focus on community. I don't see a single reference as being a dating site.

We spent a lot of time talking about how Down To Earth has the freedom to innovate. The philosophy guiding the team is highly experimental, test-and-measure. As a small, nimble group inside the Match empire, they pay close attention to customer feedback and are able to add new features quickly, avoiding much of the traditional big-company red tape that had traditionally hampered Match.
Down to Earth is being marketing using both traditional and untraditional means. The pay-per-post tactic that I previously blasted them for was a simple test. Money is being spent on search engine and word of mouth marketing.

I HATE ads like this, which look like features of the site you're on, but are actually links to other dating sites. The Federal Trade Commission is all over this unsavory marketing practice.
I've been sending out lots of emails and winks, will report back with the results. One thing I don't understand is why all my photos have a "Down To Earth" badge on them, and the majority of other people don't.
Down To Earth has done a good job with the photo management page, very clean and simple to use and promoting a photo as the primary one is simple.
Markus at PlentyofFish talks about DownToEarth. He says the site looks really good. I disagree though that Match is abandoning paid dating. This is about going after another market sector. Ross Williams leaves a great comment about PoF starting a paid dating site and it's reliance on other paid dating sites for revenue.
I like to see that Steve has a public blog, it's full of interesting information. Did you know that Down To Earth was called free-singles.com during the initial testing phase? Initial testing was done with churches. Interesting that links to Jacob and Steve's blogs from Markus' blog redirect to DownToEarth (sigh).
The Little Black Book is basically the Match Connections page. Much less clutter.
The partner page at Down To Earth features 20+ competing dating sites, most of which contain affiliate links. Very nice job with the help section.
I worked with Dating Ad Network last summer. Many people said "oh, banner networks, how quaint", but this is effectively how Down To Earth, PlentyOfFish and many other dating sites drive traffic. What's old is new again.
I give Down To Earth a B+ for now. A very nice effort right out of the gate. Just wait until the marketing dollars start flowing, I'm sure things are going to evolve in coming months. We'll see what the primary demographic of the service turns out to be, right now it's feeling a bit too divorced hard-core Christian for me. Nothing wrong with that, it's still early days and there's always OKCupid, the "other" cleanly designed free dating site.
Go sign up and check out Down To Earth, I think you'll like what you see. Regardless, I urge you to leave a comment about your experience signing up and your first impressions of the service and it's members.