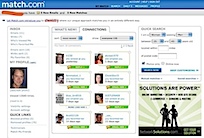 Match has gone through a pretty radical redesign. Nobody I've talked to is a big fan of what they did with the Connections page, but I like the new Daily 5 feature, which is similar to what OkCupid recently launched. I'll dig into the new features and look later on this week. What do you think of the new layout?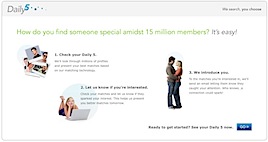 Sending another email to people with their Daily Five brings people back to the site more to check on their potential matches. Increases logins and pageviews, which is good, but the matches are no different than a basic search, which I already get emails from.
The overall design refresh is ok, gone are the black headers which I don't miss one bit. The site now looks like a bunch of modules displayed on the page, lacking a coherent design but seems to load much faster.
Match.com in the UK is featuring personality testing. According to a personality testing guru, it's a rebranded version of the Chemistry.com matching system.
Back in the day, Match has personality tests powered by WeAttract. Match fell afoul of the WeAttract terms of service, because they were using, or going to use it, on their UK site. Match got rid of the matching system, which was picked up by Yahoo, which did a nice job integrating test results with searching and profiles.
I talked to WeAttract about this last year, they said they were in the middle of legal proceedings with Match and couldn't talk much about the situation.
Search for WeAttract and you'll find everything I've written about the company and it's role with Match and Yahoo.
The 30-minute test will take users through 56 questions, some based on images, to help those searching for a partner. Early results show 88% of members were completing the test. (Via NewMediaAge magazine. and Online Personals Watch.)