A big shout-out to advertisers Bonefish, Boonex, Dating Ad Network, Honesty Online, iovation and Sobayli. I fixed the problem with duplicate ads showing up in the sidebar and removed the suggestion box, nobody used it.
Ning opens access to OpenSocial developers. Ning now has more than half a million social networks, about 65 percent of which were used in the last 30 days.
Andrew Chen did a good presentation about revenue metrics and key dashboards for measurement at Startonomics. Good stuff about ARPU, sales funnels, affilaite marketing and other important topics.
Avalanch LLC, owner of Date.com is growing the down economy:
"We were not surprised that overall revenues for Date.com, Matchmaker.com and Amor.com grew 17% compared to the first and second quarters of last year," said Meir Strahlberg, CEO of Avalanche.

…steady increase in online activity since the start of the fiscal year with 3% or more month over month, while cumulative growth has netted a 26% change. Avalanche hosts more than 10 millions members worldwide, with the sites adding over 100,000 members each month.
Social Networking Weekly Digest.
Appssavvy Raises $3.1 Million To Connect Social Media Developers, Advertisers.
How to Live and Love Online – eHarmony launches in the UK.
Scaling Hadoop to 4000 nodes at Yahoo! – this one is for all the database admins working at large dating sites. Any dating sites using memecached?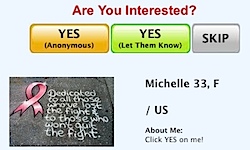 Mate1 is charging $49.95 a month! I don't understand their communication options. What's the difference between "Send an email", "Say 'Hi'" and "Let's Correspond?" I sure ain't paying $50 to find out.
I spent much of the week on new dating sites. Are You Interested is allowing people to post non-human photos. I liked this straightforward ad for PlentyOfFish on Are You Interested. I am amazed at the amount of communication I've had with women all over the world once I made a concerted effort to try some of the new Facebook social applications. I need an internet to manage all of the conversations, like drinking from a fire hose.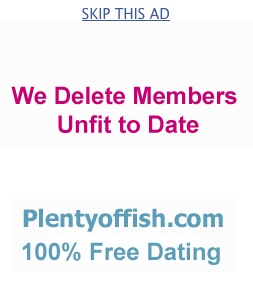 Gmail prevents you from sending out late-night drunken emails.
Fubar, the first online bar and happy hour.
DatingBuzz dating software. Anyone using it?
I was mentioned in a Yahoo! Real Estate article about Going Solo in the USA.
Happy 40th to Mark Ezra at Honesty Online!