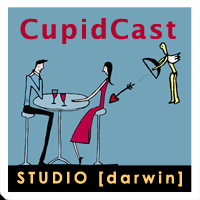 Several weeks ago I was approached by a gentleman named Darwin Stephenson to participate in a new Internet radio show about dating.
Today I'm proud to announce the launch of CupidCast, the Internet Radio & Podcast Dating Show. CupidCast is part of the STUDIO [darwin] radio network.
CupidCast is a weekly Internet Radio Talk-Show and Podcast covering the latest dating trends, online dating companies and dating experiences around the world. We'll be getting up close an personal with the movers and shakers that are driving the online dating marketplace.
A primary goal of the show is to investigate new and exciting dating strategies being introduced by entrepreneurs. "The online dating space is red hot right now and we'll be bringing our listeners a behind the scene's look at how these companies are helping people find love.
Each week Darwin and I will interview celebrity and entrepreneurial guests on what's new and innovative. The show's one-hour lineup will include special segments including "Fix My Profile" and "My Online Dating Disaster" where an ever changing panel of diverse experts will help consumers improve and turn around their online dating experiences.
CupidCast is recorded live on Thursdays at 4:00 pm PST / 7:00 pm EST and is available as a downloadable podcast through Apple Computer's iTunes service.
For more information, visit the CupidCast.tv website at www.cupidcast.tv. Read the Cupidcast launch press release for more information.
My prerequisites for hosting a radio show about dating are that I know a lot about the online dating industry and I had a radio show back in the day. Other than that, I can think of 100 other people more qualified for the job and I'm honored that Darwin, clearly lacking better judgement, decided I would be a good co-host.
Last week was the inaugural show. Darwin and I talked for the entire hour. It turns out I forgot everything I learned at MIT's WMBR ("First on your FM dial") when my last show, ElectricSpace, was on the air in 1993.
Knowing that nobody besides my mom would want to listen to me talk for an hour straight, for this week's show we invited Sam Yagan, CEO of OKCupid, to be our first guest. Sam was scheduled for 30 minutes but thankfully he was nice enough to stick around for the entire show. Sam does a great job comparing free and paid dating, dating sites and social networks, and provides useful advice for entrepreneurs starting dating sites.
You can listen to the show with this player, which can be easily embedded in blogs and web pages.
There are many voices and perspectives in the dating industry that deserve to be heard and we look forward to the conversation and we're having a great time assembling a list of guests and panel discussions. Let us know if you have a particular question or topic and we'll do our best to answer them on the air.